Well…Christmas is over, New Years is done, the houseguests have left, and I'm almost finished tidying the whole mess away.
I haven't been feeling well – some kind of mild stomach virus that lasts over a week – so I haven't had much energy to do anything very interesting.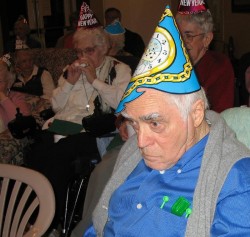 However, I did put on my party pants and go out on New Years Eve – to a senior citizens' home. I took photos of the residents celebrating New Years. They really know how to ring in the new year too – they move all the clocks ahead, so they're doing the big countdown at 8:15 instead of midnight. That way they can party and celebrate and still be in bed by 9:00. I thought it was a brilliant idea, especially since I was feeling about 85 years old myself that night. Besides, some of these people have rung in the new year a hundred times already, so they must know what they're doing by now.
I'm making the residents a video of the photos I took, using software called Memories on TV. It lets me burn my photos to a CD or DVD (a slide show with panning, zooming and cool effects, and set to music – in this case, Auld Lang Syne), which can be watched on TV. I've made a few now, and people seem to really like them.