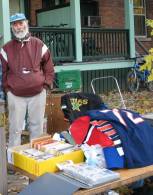 Dave has requested I identify him only as 'Dave X' when discussing the Change Challenge. In keeping with his wishes for a somewhat cloaked identity, I have rendered this photograph tiny and indistinct.
It's a photograph of Dave X at one of his garage sales. Dave doesn't actually have a garage, being homeless and all (he's quick to point out that he's technically not homeless since he inherited a cottage from his father, which makes him homeless only in the winter months – but really, living in Ottawa, if one had to choose, most of us would likely prefer to have our seasonal housing in the wintertime).
The lack of a garage has never stopped Dave from having garage sales. He just borrows his friends' garages, yards and driveways.
Because he won't work or apply for welfare or panhandle or steal, Dave lives on an extremely limited income. The weekly garage sales from April to October net him about $50. The living's much leaner in the wintertime. He literally lives on what he can find. Last year he found just over $200 in (mostly) change lying on the ground. In Canada, the smallest bill we have is $5, and on rare occasions he finds a $5 or a $20, but mostly it's change.
The secret of Dave's success in finding change is:
1) Walk a lot, and always watch the ground
2) Check out the areas just outside the bars at closing time
3) Look under the drive-thru windows at fast food joints
4) Check every pay phone and newspaper box you see
Dave eats a lot of bread, bananas and peanut butter. My friend's mom gave him some Indian butter chicken a while ago, and he rinsed it off under the tap and ate it. He loves to watch Jeopardy, and he's pretty good at it, but he has all kinds of rules that we all have to abide by – for instance, no yelling out the answers: we must proceed in an orderly fashion and take turns answering.
But I digress. The Dave X Change Challenge came into being when I declared that all my co-workers and I (there are 23 of us) could find more money in a year than Dave could. Dave loves a challenge, and he accepted this one on the condition that we only refer to him as Dave X. (Don't ask.) At the end of the year, my co-workers and I will give half of our found change to the Humane Society, and the other half to Dave.
Well, we're 21 days into the year now, and Dave has found $7.12. My 22 coworkers and I are up to 77 cents. Naturally we've started making excuses and Dave has started gloating. Our #1 excuse (and really, it's not so much an excuse as it is a reason) is that we're cooped up in an office during all the daylight hours, while Dave's free to wander about town finding money all day long. Dave says our lifestyle choices are not his problem.
We haven't given up yet. I have great hopes for Daylight Savings Time, when Dave starts spending more time at the cottage and the rest of us start spending more time outside during daylight. I'm sure we'll start to close the gap then.