I'm knitting again. I've got two projects actively on the needles right now.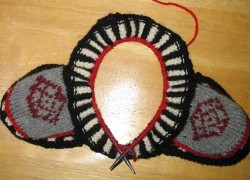 First is a hat with earflaps. Given that I froze my ear last weekend while out skating on the Rideau Canal, this is kind of like closing the barn door after the horse escapes…but better late than never, I suppose. I like making these hats because there are 8 colours and various patterns and each hat is different, depending on how you juxtapose the colours. It's an entertaining knit. But I will warn anyone that decides to knit the Cabin Fever Inka Hat #112 – when I knit it according to the instructions (ie the right wool and the needles called for in the pattern) I ended up with a hat that fit a five-year-old perfectly. I had to use the needles that match the wool's gauge recommendation to get a hat that fits an adult – and this somewhat defeats the wind-proof advantage of knitting it on smaller needles.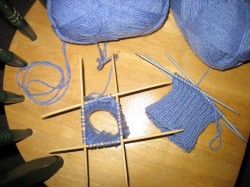 The second project on the needles is My Very First Pair of Socks! I'm ridiculously excited about learning how to knit socks. My Tuesday lunchtime knitting group at work decided to tackle socks as our first project of the year. Our leader stated her biases up front (she's a historian, it's what they do) and said she is not fond of knitting socks – twenty hours to complete something that nobody ever sees and which can be purchased for four dollars at Zellers.
I decided to knit my socks in tandem, because I've heard of one-sock syndrome, which is when you get bored after knitting the first sock and never get around to knitting its mate.
This is purely a coincidence, but 2006 has been declared Year of the Sock and there is a real bona fide sock-knitting contest to commemorate it.