I love my clapotis. And now that it's finished, all my co-workers can see for themselves that there's nothing poncho-like about it.
Did I ever tell you why I hate ponchos? When I was in grade 7 I went on a charity walkathon with my boyfriend, Danny Manship. I think it was 27 miles. My mom thought it would be cute to dress me like a Mexican, and it would also be a good way to get some use out of all the mexican tourist crap she bought in Mexico. So I had to wear a sombrero and a heavy wool poncho, and – get this – I had to take a goat on a leash. A real goat. Danny was a highly competitive guy, and he was convinced that a walkathon was really a race and whoever finished first was the winner. So he wanted us to RUN 27 miles and win the race. I pretty much RAN 27 miles in a sombrero and a poncho with a goat on a leash. God what a miserable day that was. The sombrero kept blowing off and the poncho was really hot. Here's a little known fact: goats aren't fond of running.
As for the clapotis, which is clearly not a poncho – it took awhile, but I think it was worth it. This is my completed clapotis (say that three times fast). I knit it using 2 and a quarter skeins of Cherry Tree Hill Silk & Merino worsted yarn in the peacock colorway.
This picture shows the size best – it's big – about 5 feet long. I made it exactly according to the pattern. If I were to make another one, I'd make it wider so it would be longer (more shawl-like) in the back.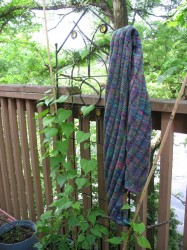 This picture shows how it drapes: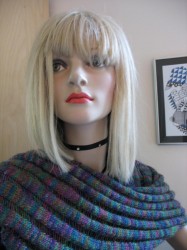 This picture shows the colours best: