Another Bluesfest is over and done! Here are the last few pix to complete the Blue Stew.
Jody and Janet…listening to the Iguanas, I think.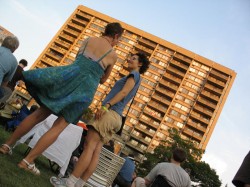 This is the Green Bluesfestmobile.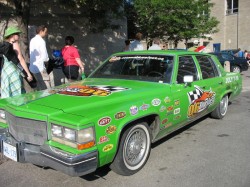 I just passed by this stage on Saturday on my way to another stage, and noticed all these rapturous gospel singers. I thought they were a little bit scary, actually.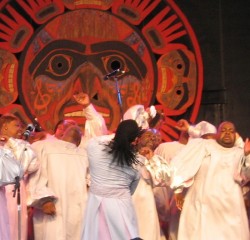 This is one of the Tony D & the Texas Horns jam sessions. That's Drew Nelson up there with him. When my son was 17 and ready to move out and be a man and make his own rules, he phoned Drew and asked him to help him move. Drew said he'd help, but only if it was okay with me. (Good answer Drew.)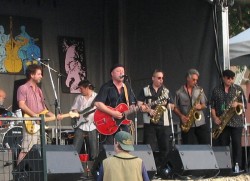 There's a gaping philosophic chasm between chair people and non-chair people at festivals. I have always found the debate interesting. I'm not solidly for or against chairs, but I don't bring one myself because I just don't think of myself as one of the chair people. But on the last day of Bluesfest I had a blister and my legs were sore and frankly I was feeling a little burnt out after 10 days of bluesfesting. I wanted to sit down in a nice comfy chair. And suddenly, right in front of me, there was a young woman giving away free chairs, and all I had to do was apply for a Molson Canadian Mastercard. (She was giving away umbrellas too, but I don't believe in umbrellas.) So anyway, not only did I get a free chair, but I told Janet about it and she got a free chair too, and we set up our free chairs and sat in them and pretended to be chair people for awhile. Janet said perhaps we had evolved, and I said perhaps we had sold out, but either way we were sitting pretty. Here's Janet in her chair, and that beer in my chair is supposed to represent me.