I think we hit 48 Celsius with the Humidex in Ottawa today. That's what? (48-4) x 2 +32 = 120 Farenheit. When I stepped out of my air-conditioned office at 4pm, I felt like I was instantly swallowed by intense heat. It was so hot it almost hurt. It was alarming. On a day like today, it's hard to believe Ottawa is the second-coldest national capital city in the world (Mongolia's capital is a little colder).
It's definitely not hat weather, but Fiona sent me photos of her kids wearing the strawberry hats I knit them for Christmas.
This is Gavin wearing BOTH hats.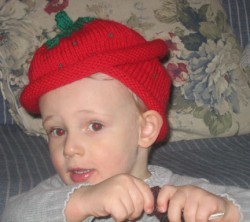 Here's Jonas, wearing one hat.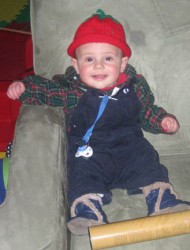 And here's Fiona and her boys.