Last night I was at Stuart's weekly Thursday Night Barbecue Party in Mechanicsville, and I actually got my first blog request. John asked that I post a couple of pictures from the previous Thursday Night Barbecue Party, since it was an amazing night and we set some records last Thursday.
The first record is that 50 people showed up. (Some people claim to have counted 51, and at least one person counted 100 but we suspect he was seeing double so we're ruling him out as a statistical outlier). Here are Taryl, Preston and John, three of the 50 people: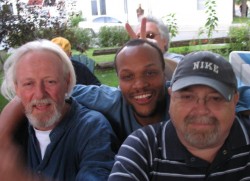 The second record was that we finally achieved what can only be described as the perfect meat/vegetable balance. Some Thursdays we end up with 20 different kinds of meat (I never even knew there were 20 different kinds of meat) and no salads. For some reason we never seem to end up with 20 salads and no meat. It's definitely a carnivorous crowd. Here's some meat: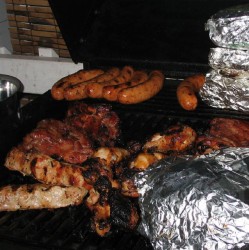 And here's some salad: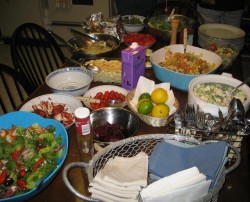 We had two kinds of corn on the cob: carefully cultivated corn from the Experimental Farm, and 12/$1.99 corn from Loblaws. The Loblaws corn won, hands down. Here's the award-winning Loblaw's corn: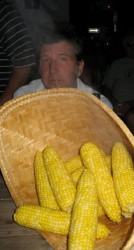 And here's the evening's musical entertainment: The incomparable Guy Del Villano on the piano with some jazzy blues and bluesy jazz.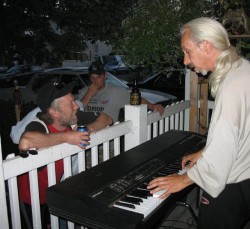 I don't have a picture of it, but at last night's Barbecue Party, there was an absolutely phenomenal salad, which I believe was Jicama-Spinach Salad with Tequila Dressing. It was fabulous, absolutely perfect. (I have reason to believe John did some pretty extensive taste-testing and fine-tuning of the dressing beforehand, given that Stuart wouldn't let him use the carving knife later in the evening.) When it was all gone, Caroline and I were ready to go salad-bowl-diving with straws. [John, if it's not a cherished secret family heirloom recipe, could you please share it with us?]