.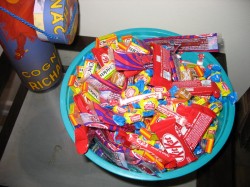 Okay it's 8:00 pm on Halloween and I haven't had a single goblin or ghoul or witch or anything. I did see a cow at Bank & Somerset this morning, and a Tigger on my street while I was out running after work, but so far there have been no Trick-or-Treaters at my door.
What is WRONG with kids today? Have they forgotten how to have fun, or are they just not allowed to do anything anymore? God. I read the other day about a school that has outlawed the game of tag, because children could get hurt. And another school that does not allow running at recess, because children might trip and fall and get hurt. And another school that has banned Hide-and-Seek because children should be visible at all times.
Have all the parents and teachers forgotten their own childhoods? Children are supposed to fall down. They're born short so they don't have so far to fall, and they've got flexible bones so they're less likely to break. Getting hurt is a normal, natural, everyday PART of childhood. You skin your knees, you stub your toes, you get slivers, you get the wind knocked out of you, you get bruises and goose-eggs and frostbite and poison ivy and sometimes you cry but usually you just dust yourself off and carry on because you're a kid, and kids are tough!
We're raising a generation of wimps. And when it's their turn to be parents, they won't have any idea what a normal childhood is like, so their children will be wimps too. I think we were the last generation – ever – to experience getting kicked out of the house in the morning and told not to come back until supper. We were the last generation to have unstructured, unsupervised, unmediated play time with other kids. We were the last generation expected to amuse ourselves without electronics. We were the last generation whose parents couldn't imagine anybody wanting to kidnap us.
What kind of wine goes with Kit Kats and Twizzlers?