I almost never get sick. I've had two colds since 1997. I don't even remember the last time I had a full-fledged flu, even though I've never had a flu shot. Sometimes I feel like I'm about to get sick, but then I fight it off. I attribute it to good clean healthy living of course. Ha! (Really I attribute it to good luck and a lifetime of subjecting my body to dirt, stress and other things that encouraged my immune system to grow a thick skin.)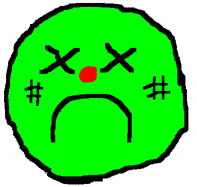 But now I'm sick. I spent a week trying to fight it off, and then it seized me by the throat and shook me like a dog shakes a groundhog. I have a cold. I'm coughing. I've lost my voice. I get hot and then I suddenly get cold, and then I have to take a hot bath to get warm again. I'm not taking any medications for it, because I have a theory: each of the symptoms serves a purpose, and if you suppress the symptoms, you prolong the illness. For example when you take cough syrup, you're not only suppressing your cough, you're also suppressing your body's mechanism for ridding itself of the cold.
At first it was kind of interesting being sick. You know, forcing myself not only to go to work, but to walk the whole 7 kilometers just to see if I could do it without any energy; trying to figure out why I feel stupid when I'm sick; wondering if anybody else experiences ear-squeaking while blowing their nose; answering the phone with no voice; noticing that I keep trying to talk to the dog even though I have no voice and he's deaf. That kind of thing.
The novelty is starting to wear off though.