Here's a do-it-yourself project for absolute beginners. Like me. (I hope the rest of you don't think I'm a moron for taking so long to figure out something this simple.)
I've had this pottery plate for years. It was a gift and I love it. I never use it. It has been sitting on a succession of kitchen counters for years, and because counter space has always been limited, it was always in the way. Not only that, sitting on counters didn't do it justice from a display point of view. Many times I wished I could hang it on the wall, but it had no hanging mechanism. And I didn't perceive myself as the kind of person who could do stuff, so I never really thought about HOW to do it.
Then I bought the house and I've slowly starting becoming that kind of person. The kind of person who looks at things that aren't quite right and tries to figure out how to make them better.
So one day I was moving the plate off the counter in order to wipe under it, and as usual I thought "Wouldn't this be nice, hanging on the wall?" And then I took a second look at it, and really started to consider the possibility of hanging it on the wall.

In my basement, I've being accruing a nice little collection of useful little things. There's a pegboard down there, and I hang the useful little things on it. Little tools and hardware and screws and hooks and things. I went down there and looked. I found a package of assorted hardware that I got for a buck from the Dollar-It store that replaced Big Bud's. I bought it because I needed one little thing in the package. I found a little flat triangular hook in that package. Then I found a tube of silicon sealer that I bought at Michaels for this cool photo magnet marble project from A Peek Inside the Fishbowl. (Andrea said this project was easy, and it was, but sadly my results were not as charming as hers).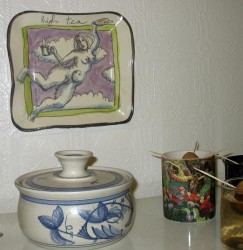 Anyway. I used the silicon sealer to attach the triangular hook to the back of the plate, sat a bottle of wine on it overnight (in lieu of a clamp), and in the morning I had a good solid hanging mechanism on my plate. I hammered a nail into the wall and hung up the plate!
The moral of the story: Think of yourself as the kind of person who can do stuff and you just might find yourself becoming that kind of person. Especially if you have a nice little collection of useful little things.