Do you remember a couple of weeks ago when I said my dream job would be Paint Company Colour Namer? I could name new colours all day long. My days would be full of bite-sized, poetic, creative accomplishments.
Well, I unexpectedly got a chance to make my debut as a Paint Company Colour Namer last night, and I blew it. I froze. I choked.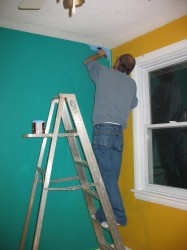 Here's what happened. In the room formerly known as the Incredibly Brown Room, I had painted three walls Caution Yellow and one wall Honky Tonk. The yellow worked, and the Honky Tonk was okay, but it was too green, especially in natural light. After perusing all the known blues in the infinite paint chip world, I chose Debbie Travis' Jolly Josh to replace the Honky Tonk.
I went to Canadian Tire for a quart of primer to be tinted in Jolly Josh. The Canadian Tire boy mixed my primer. Before he opened the can for my inspection and approval, he said "It's going to be lighter than Jolly Josh, but it's supposed to be, because it's primer." Then he opened the can to reveal the most delicious shade of Lighter-than-Jolly-Josh blue.
"Wow," I said.
"Wow," said Canadian Tire Boy.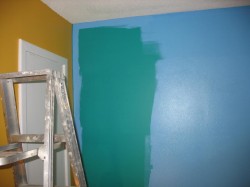 Jamie and I went back to my place and primed the wall. It looked fabulous. Here's a picture of the Honky Tonk wall partially covered with the Lighter-than-Jolly-Josh primer.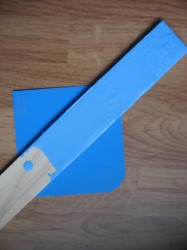 Naturally I changed my mind: the wall should be painted that colour, instead of Jolly Josh. But "that colour" didn't exist, in paint chip terms. It was a nameless, chipless colour, a serendipitous creation of Canadian Tire Boy. The room would be known forever as the "Caution Yellow and Nameless Blue Room." Here, by the way, is a photo of the Nameless Blue primer stir stick on the Jolly Josh paint chip.
"We could call it Stick Blue, after the stir stick," Jamie suggested.
The next day we took the primer stir stick to the Benjamin Moore Wizard, who colour-matched it with his high-tech scanning equipment and created the identical shade of paint.
But then the unexpected happened:
"When a new colour is created," said the Wizard, "Our computer requires that we give it a name."
And there it was: my make-or-break opportunity to launch my new career as a Paint Company Colour Namer. Surely if I named it something fresh and brilliant, someone at the Benjamin Moore head office would notice it and contact me and offer me my dream job.
"What's your last name?" asked the Wizard, "We'll name it that."
"NO," I blurted out (if you know my last name, you'll understand the urgency), "It's Stick Blue."
And no sooner had I uttered those fateful words, they were in the computer and the most delectable shade of blue ever created became officially known forever as Stick Blue.
Stick Blue? Jesus. We're talking about a fresh, joyful, whimsical blue. It should be named Blue Whimsy or Blue Nirvana or Blue Bliss or Euphoria Blue or something. Anything but Stick Blue or My-Last-Name-Blue. And not only wasn't it a good name, it wasn't even an original name: I stole it from Jamie!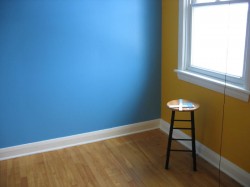 On the bright side, the Caution Yellow and Stick Blue Room looks amazing, and if you ever want to paint your room in this luscious shade, you can go to any Benjamin Moore's and ask for a gallon of Stick Blue. Really. You can.