My herbs and spices have been a minor source of despair for years. If I run out of things to despair over, there's always the herbs and spices.
They're messy and cluttered and no spice rack is big enough to hold them all. You're supposed to keep herbs and spices in a cool, dark, dry place so they'll retain their flavour but there are no cool dark dry places in any kitchen I've ever had. I swear I have some spices in my collection that are older than my child, but I don't know which ones. Sometimes I just feel like throwing them all out and starting over.
Most of the time I don't even think about them, let alone anguish over them, because they're all crammed in an overflowing plastic basket in a kitchen cabinet: I subscribe to the "out of sight, out of mind" school of housework. But then I'll see a recipe that calls for a particular spice and I can't remember if I have that one, and I can't bear to go rooting through my herbal chaos, so I end up buying another one. I have three bottles of cumin (so far).
Recently I stumbled across Amber, whose blog is called Aim True, and she has invented the most brilliant, useful and EASY craft ever: a DIY magnetic spice rack.
You only need three things: a set of watchmaker's cases from Lee Valley Tools ($9 for 15 of them), a tube of glue (I used the silicon sealer I got at Michael's), and some good strong cheap magnets (I got 50 at Michael's for about $6 I think).
You simply glue a magnet to the bottom of each watchmaker's case, let it sit overnight, then fill each case with a herb or spice and jot down its name on the back of the case. Stick 'em on your fridge and Bob's your uncle. (Or, you can do what Amber did and buy a few magnetic knife racks, attach 'em to the wall and stick your spice holders on there.) I swear to God, nothing can go wrong. It is FOOL-PROOF. And it only takes about 10 minutes to make.
So here's my fridge, with my 15 magnetic spice holders on it. Is that not amazing? (By the way, in case you're wondering, I don't know that fat, crabby naked guy on my fridge. The National Gallery sent him to me. It's an invitation to something.)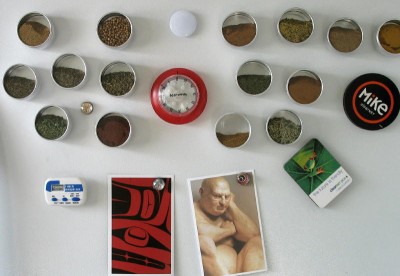 ---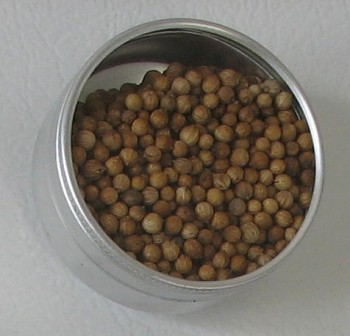 Oh, and here's another handy spice tip for you: Coriander seeds are excellent in soups. Toss a handful into any homemade soup, and you get these wonderful crunchy little flavour bursts. Whoever invented coriander seeds was a culinary genius.