Last Sunday Jamie and I went to Montreal for the day. It was a good day, but I have to say Montreal looks like it could use a long soak in a hot bath. We spent most of the day at the Montreal Museum of Fine Art, which consists of two buildings across the street from one another. One is old, one is new. There's a lot of new stuff in the old building and a lot of old stuff in the new building.
I liked the Museum, except for two things: the endless teeny tiny stairs in the new building (the staircases were a cross between stairs and ramps, and the novelty wore off quickly), and the lighting in the new building. There was too much lighting aimed straight at the paintings, so there was a lot of glare.
There were a lot of cool things I wasn't permitted to photograph, especially in the new building. They had a lot of Rembrandt sketches. He was pretty good.
Here are a few of my favourite things from the new building.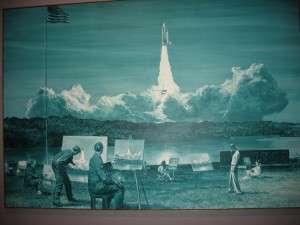 This huge contemporary painting made me laugh out loud. It's called Action Painting II, by Mark Tansey. (Click on it for a bigger version.)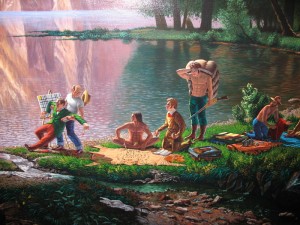 This next one was massive. I'd guess about 12 feet long and 8 feet high. But it's like dozens of paintings in one, because there are so many things going on in it. And it's funny. I took a really bad photo of the entire thing, but it just doesn't do it any justice at all. I also took a couple of photos of tiny sections of it. This photo shows maybe 1/100th of the entire painting. And here's another bit of it – check out the shoes: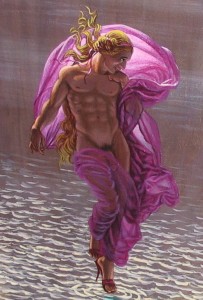 The old building across the street was amazing. They have a Decorative Arts section, which houses things (furniture, household items, etc.) from maybe the 1600s to the present. Here are some things that caught my eye:
Rococo sleigh: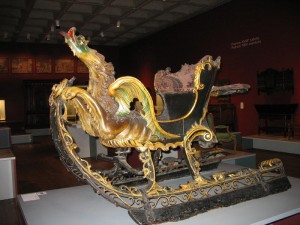 Contemporary metal chair: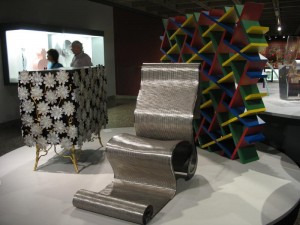 A bit of the chair collection: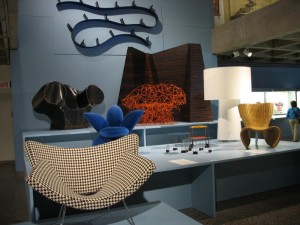 The baseball glove chair: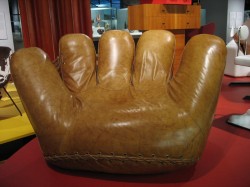 This is probably my favourite thing in the whole museum – I might start collecting drawers so I can make me a dresser just like this: