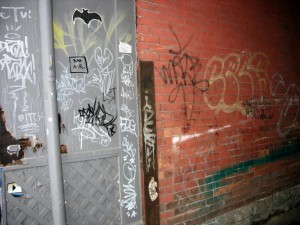 graf·fi·ti /grəˈfiti/

"Markings, as initials, slogans, or drawings, written, spray-painted, or sketched on a sidewalk, wall of a building or public restroom, or the like: 'These graffiti are evidence of the neighborhood's decline.' " (dictionary.com)
(Graffiti is one of those weird plural words that sounds wrong when you use them correctly. Like data. 'The data show…' and 'Graffiti are' sound awkward. Actually, this whole parenthetical note sounds atrocious.)
"Graffiti are cross-cultural phenomena common to every literate society. Within the variable contexts of their production, graffiti personalize de-personalized space, construct landscapes of identity, make public space into private space, and act as promoters of ethnic unity as well as diversity. Graffiti can be understood as concrete manifestations of personal and communal ideologies which are visually striking, insistent, and provokative; as such, they are worthy of the continued attention of art historians, social scientists, and policy makers alike." (from Art Crimes)
"The City of Ottawa and the Ottawa Police Service in partnership with representatives of the community are proud to be working together to eradicate graffiti vandalism as part of our role in reducing graffiti vandalism in our city.

To achieve this goal, our approach is based on a 4E model of graffiti management.

Eradication: Removing graffiti quickly and efficiently.
Empowerment: Maximizing use of available resources and relationships.
Education: Building awareness about how to prevent and remove graffiti.
Enforcement: Applying municipal and penal code laws when necessary.

"When you see graffiti in your neighbourhood, it is important to report it."
(Ottawa Police)
Now there's an absurd suggestion, and they can't possibly mean it. I'd be calling the police constantly if I reported graffiti every time I saw it. The 4E thing is kind of silly too. Empowerment? Maximizing use of available resources and relationships? Does that actually mean anything? (Maybe it means that the PR team over at the Ottawa Police thought it would be catchy to have four words that started with the same letter, and they struggled to accomplish that.)
I'm not opposed to graffiti per se, although much of it is ugly, hastily scrawled and a waste of perfectly good wall space. On the other hand, there are some very talented graffiti artists out there who are, in my opinion, adding beauty and humour to the character of the city.
For example, here's what's on the Wallacks art store's wall: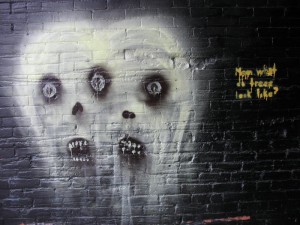 I love this one, which is also on the Wallack's wall. I think it's hilarious. This graffiti artist and I are probably on the same chapter of Drawing for Dummies.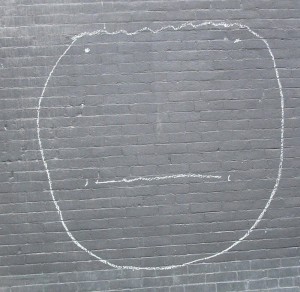 This door says Zoom on it, but I didn't have anything to do with it: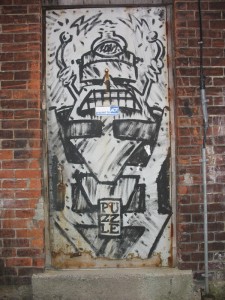 The bikini-clad alien is part of a series I like: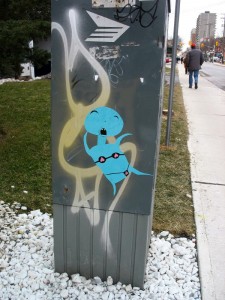 I laughed when I saw this innovative approach at graffiti deterrence. And I thought it was kind of sweet that the graffiti artists actually used it (in addition, of course, to the wall beside it).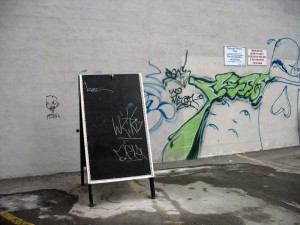 While people complain about the economic costs of graffiti, you can see that it does contribute to the local economy in its own funny way: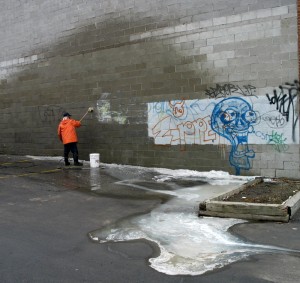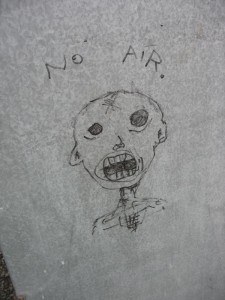 I'd miss graffiti if they somehow managed to eradicate it entirely, but I don't think there's any danger of that ever happening. If nothing else, graffiti artists are persistent and prolific. Speaking of which, does anybody know anything about the "No Air" graffiti? I see variations of it everywhere, but I have no idea what it means. I'm intrigued.