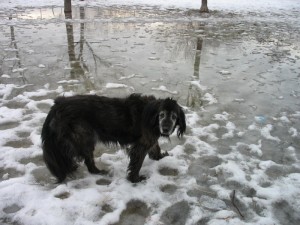 I have an appointment to get Sam euthanized Thursday morning at 10:20. I made the appointment last week, and the last few days have been getting harder and harder. I'll be fine one moment, and then suddenly I'll start crying, sometimes even in public. I don't know how I'm going to get through it.
Yesterday he was acting like such a puppy at the park…he found a tennis ball and asked me to throw it for him, so I threw it and he chased it and brought it back four times, all happy and excited, just like when he was young and healthy. It made me happy to see him feeling so good. But it also made me wonder if I'm jumping the gun, or cheating him out of the last little bit of all he's got left.
My son's coming over to say goodbye to him tonight. I don't know how I'm going to get through that either.
I remember the day we met Sam at the Humane Society. That was back when all the animals were on public display in kennels, and you would wander among them and pick the one you wanted.
We were going up and down the aisles, looking at all the dogs, and suddenly James, who was only 10 at the time, said with absolute conviction "This is him! This is my dog!"
I suggested that we finish looking at ALL the dogs before making up our minds, but he was adamant that he didn't need to look at any more dogs, THIS was his dog.
"Why?" I asked.
"Watch this," he said. And then he turned to Sam.
"Sit, Sam," he said quietly. Sam sat.
"Shake a paw Sam," he said. Sam put his paw against James' hand, through the kennel bars.
"See?" said James, "He already understands me. He's my dog."
He was a handsome young dog, much redder then than now, with intelligent brown eyes and a calm, relaxed demeanor which stood out in that chaotic environment among the scores of excited and emotional dogs all shrieking "Pick me! Pick me!"
I still thought we should finish looking at all the dogs before making the final decision, but James was convinced that Sam would get scooped up in a matter of seconds if we left his side, since he was clearly the Very Best Dog in the Whole Humane Society, as anybody could plainly see.
He was right. And tonight, all these years later, he's coming over to say goodbye to the Very Best Dog.
I don't know how I'm going to get through this.
————————————————–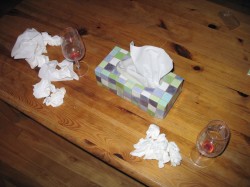 James arrived just as I was writing that. We got through it, but this is what the coffee table looked like by the time he left.
We're both very sad.