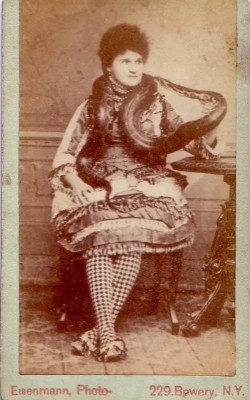 I dug up something special for this week's Antique Photograph of the Week. And no, it's not a dead body.
It's a snake charmer! And a snake!
She's got the freakiest stockings I've ever seen in an antique photo. And the biggest (and only) snake I've ever seen in an antique photo.
I have absolutely no doubt that this woman worked as a snake charmer for P.T. Barnum. Barnum loved snake charmers, probably because he was such a shrewd and slippery snake oil salesman himself. I believe this is either Zoe Zobedia or Amy Arlington, and this CDV photo probably dates back to the 1880s. It was taken by Charles Eisenmann, The Popular Photographer, of Bowery Street in New York City.
I've got a lavishly illustrated and very interesting book about P.T. Barnum, and it has a picture of snake charmer Alma Janata in it. It's a group shot that includes one manager, two Aztec People, a six-legged cow, a Thin Man, an Elastic Skin Man, two Armless Wonders, a Bearded Woman, two Albinos, four Texas Giants, and a magician. The giant snake seems kind of ordinary in that photo, because context is everything and everything is relative.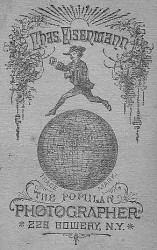 If I could collect the images of any historical photographer, it would be Charles Eisenmann, but I'm lucky to have just one. Eisenmann images are highly collectible, and therefore difficult (and expensive) to get. His photographs are the subject of a book called Monsters: Human Freaks in America's Gilded Age, by Michael Mitchell.
If the Snake Charmer has given you an appetite for more Eisenmann (and really, how could it not?), there's a huge searchable collection at the Syracuse University Library, and a much smaller collection at the Disability History Museum.