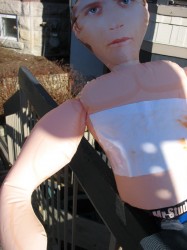 I came across Mr. Stud here on Somerset Street, taped to a porch railing. He had a rain-smeared sign taped to his chest that said "Free." I considered taking him, but I thought maybe someone else might need a used inflatable male doll more than I do. He does have nice eyes though.
If you want him, he's at 455 Somerset West, between Kent and Lyon. Hurry though, I don't expect he'll last long at that price.
---
UPDATE: Mr. Stud made the front page of
Watawa Life
!