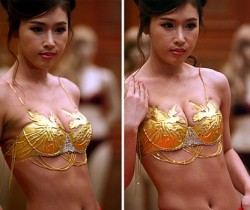 I went bra shopping at lunchtime today. At Eaton's. Home to gazillions of bras.
Bra technology seems to have expanded significantly since I last bought a bra, and clearly I haven't kept abreast of new developments.
It used to be there were just sizes: the number (the circumference of your ribcage below your breasts in inches, plus 5) and the letter (the size of your cups: the difference in inches between your chest circumference measurement below your breasts and your chest circumference measurement at breast level, converted to letters: 1 inch difference=A, 2 inches=B, etc.). That's plenty complicated enough for me, and apparently for others too, since 85% of women wear the wrong bra size.
But now the manufacturers are throwing in all these other variables like half-sizes, racerbacks, t-shirt, balconnet, convertibles, strapless, gel straps, spa straps, foam, graduated foam, microfoam, microfiber, high tech fabrics that wick the moisture away, stretch memory fabric, undercup slings, cutaway wings, wide side wings, laminated cups, demi cups, seamless, underwire, wireless, microstitched wire substitutes, full support, medium support, padded, silicone-gel padded, gel-shaped, minimizing, maximizing, push up, side push, cleavage creating, cleavage enhancing and decollette.
I just wanted a comfortable, all-purpose bra. Apparently there is no such thing. Bra technology has simply not evolved that far.
But it has evolved to the point where women have to adopt a higher standard of bra maintenance. One of my colleagues bought a bra at La Senza the other day and the sales clerk told her not to fold it or keep it in a drawer – it must be hung up on a hanger in the closet in order to maintain its contours. She says it looks weird hanging in the closet, and it takes up more closet space than a shirt, say, because it's so three-dimensional and sculpted and perky.
The revelation that 85% of us wear the wrong bra size has led to a burgeoning career field: professional bra fitters. They measure your breasts every which way and then recommend the right bra for you. According to an Australian study, 68% of the bras recommended by professional bra fitters don't fit either.
The good news for manufacturers is that women are so used to wearing uncomfortable bras we have developed extremely low expectations of comfort. We complain about how uncomfortable our bras are, but we complain privately to one another rather than as consumers demanding a higher standard.
My friend Kathryn and I used to meet for a beer on Elgin Street sometimes after work. We'd slide into our booth while simultaneoulsy slipping our bras off through out sleeves and stuffing them in our purses.
"Ahhh," we'd sigh blissfully, "that feels so good."
Anyway. I bought a bra today. It's not very comfortable and it's probably the wrong size.
By the way, I stumbled across this bra size calculator and I got pretty mystifying results. It said I should be wearing a 34D. Anybody who knows me knows this can't possibly be right. Can someone else give it a try and tell me if it works for them?