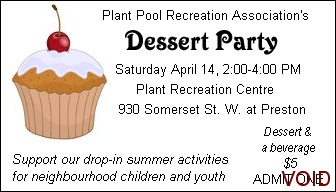 I'm baking a cake and serving homemade desserts at the Almost-Annual PPRA Dessert Party!
I'm on the Board of the Plant Pool Recreation Association (PPRA), a grassroots community organization which raises money and provides recreational activities for low-income kids in my old neighbourhood. Even though I've moved, Chinatown/Little Italy is still my neighbourhood at heart. It has lots of kids, one of the highest rates of child poverty in the city*, and one of the lowest amounts of green space for kids to play in.
I'm a mere mortal volunteer myself, but there are some supremely dedicated volunteers on this board: they're at the rink and in the soccer field several days a week, and they play a strong advocacy role on behalf of our neighbourhood.
The hundreds of desserts are all homemade by the dozen members of our Board. About four of them make about 80% of the desserts. (I'd feel guiltier, but I do redeem myself somewhat by making the tickets and flyers.)
So if you're looking for something delicious to do on the 14th, come on down to the Plant Recreation Centre. It's only $5; I think you get up to three desserts and a cup of coffee, plus the satisfaction of knowing you've done something good for the kids in Chinatown/Little Italy.
---
*The child poverty rate is 49% in my old neighbourhood, and 44% in my new one. If you'd like to see how your neighbourhood compares,
check this out
.