The day Sam died (I know, I promised I wouldn't write anything about death for awhile, but bear with me), I was drifting around my house wrapped in layers of sadness, and everything around me seemed very, very depressing. I even got an urge to clean, which is a Very Bad Sign.
I cleaned: I tidied, I decluttered, I swept, I scrubbed walls. At one point I was in the kitchen, cleaning things I don't even normally notice, like the clutter that had gradually usurped the already limited counter space. Empty coffee cans, wine bottles, recipes I'm going to try someday, junk mail. An avocado that was past its prime.
What is it about avocados anyway? I love them, but my timing is almost always off. They're either not ready yet or it's too late, and once again I've missed that tiny window of avocado edibility.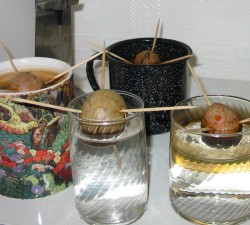 Anyway, I was just about to toss the avocado in the garbage, when it occurred to me that I could plant the pit in Sam's memory. So I did. I suspended it in a glass of water with toothpicks, and put it on top of the microwave with all the other avocado pits that have been suspended in glasses of water with toothpicks for months.
I'm known in some circles as somewhat of an Avocado Expert, because most people who attempt to grow avocados don't have any luck and I do. Most people assume their avocado pits are duds because they don't sprout, so they throw them out. The secret is not to throw them out. That secret is what makes me an Avocado Expert.
Every now and then I check the suspended pits for signs of either life or death, and finding none, I top up the water and forget about them again.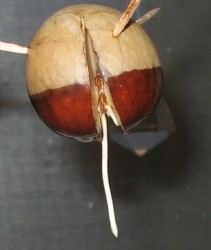 Tonight Sam's avocado rewarded me with signs of life! Not only that, but it set a record – it rooted in just 33 days (maybe even less, because I hadn't checked for at least a few days). Sam's avocado is going to be an avocado tree!
I have to admit, I cried a few happy-sad tears when I saw it. (I don't usually cry when my avocados root, but I always feel a little leap of emotion.)