Nope, it's not hockey: it's the Marathon!
I like to watch the National Capital Marathon from Dow's Lake, opposite the Man With Two Hats. They've run about 37km at that point, and they've got about 4 or 5 km to go. Most of them are tired and hurt and they need all the moral support they can get.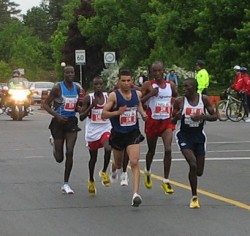 Here come the front-runners: the cloud of Kenyans. They're so fast I barely have time to take their picture. They run together for much of the marathon, but the real race begins for them when they sprint for the finish line. They're impressive, but not as impressive as the runners still miles and miles away.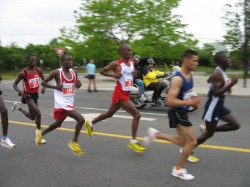 The elite athletes only have to run for a couple of hours, during the coolest part of the day, and it's probably pretty easy when you've got ridiculously long legs and you run marathons for a living.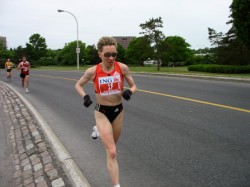 After the Kenyans and Ethiopians comes the Lead Woman. She's Canadian and she won last year and this year.
My heroes are the stragglers. They run all day, through pain and weather and fatigue, and by the end many of them are running on sheer determination alone. I am in awe of them.
I missed my annual bleeding nipple shot this year. I saw one man running by with bleeding nipples, but for some reason I thought he had rust-coloured racing stripes on his t-shirt, and it wasn't until he had passed that I registered the bleeding nipples. (Men are supposed to tape their nipples so they don't get rubbed raw by their clothing. Women don't have this problem because they wear sports bras.)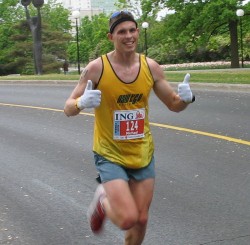 Because it was raining today, there weren't as many spectators. Usually the runners don't even notice me, because there are plenty of better cheerleaders who yell "Way to go!" and "Looking good!" and "Keep it up!"
I'm a quiet and inconspicuous spectator: I clap, I smile at them, I take pictures. But today a lot of the runners smiled back, gave me the thumbs up, and thanked me for being there.
They looked better this year than last. Last year the marathon was run under a vampire sun that sucked the life out of them. A lot of them were miserable and sick, and some were collapsing on the road and being hauled off in ambulances. I didn't see any of that today. I was happy it was raining because my empathy levels go off the chart when I see them suffering, and I literally start to feel sick for them. I'd rather just feel wet.
It's always about me, isn't it? Enough about me! Here are too many photos: