Well, it was kind of an anticlimatic game at the end of an anticlimatic series, wasn't it? None of that adrenalin-fueled squirming on the edge of our seats, chewing on our nails, afraid-to-look-at-the-screen-but-afraid-to-look-away kind of stuff. Nope. The whole series – and especially the last game – was like falling off a high cliff in slow motion.
At least we had plenty of time to come to terms with our impending loss, as one puck after another plopped into the net. I kept doing the math: if we score a short-handed goal now and then score every two minutes for the rest of the game, we'll win. And then we just have to win the next two games, and then we can have our parade.
I liked what making it to the finals did for Ottawa – all that flag-flying enthusiasm, all that partying in the streets, all that collective team spirit. Ottawa needs more stuff like that to get excited about.
The downtown core seemed a little deflated and hungover today, just like usual. Everything fizzled back to normal.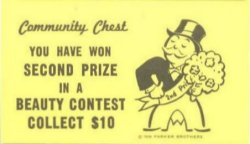 But you know what? I'm not ready for normal. We might not have won, but second place ain't too shabby either. If any of us won second place in the lottery or the marathon or even a beauty contest, wouldn't we be celebrating? I say we should go ahead and have the parade and celebrate Ottawa's impressive second place accomplishment. Whadya think?