I bought my house last October, which was post-garden season. This is what I saw: a tiny backyard, maybe 12 feet by 10 feet, lined on two sides with empty flower boxes, and surrounded by a fence.
Not much, I thought, but I could grow morning glories and marigolds, squeeze in a barbecue and a table and chair, and be perfectly happy out there.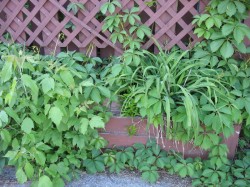 I got my seeds started indoors a few weeks ago. The first batch committed suicide, so I tried again. By the time they were ready to transplant, my back yard had completely changed. I had hundreds of gigantic dandelions and other stuff growing from the cracks in the tiles. The flower boxes were exploding with life. My tiny back yard was suddenly full.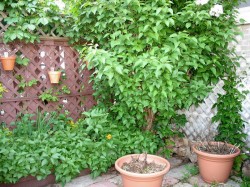 You would think that in a back yard as small as mine, I would have noticed the trees before now. No. It turns out I have two trees.
I managed to make room for the morning glory seedlings. Within a day or two, the squirrels had dug them all up and left their limp little bodies everywhere. I've done battle with squirrels before, mostly on balconies. It's an unwinnable battle because I have a job and they don't. I have to leave my garden unguarded for nine hours a day. Still, I planted more seeds.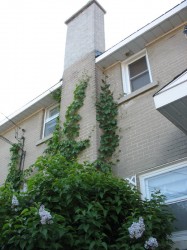 As for the things growing in the flower boxes: I think they're weeds. My unfortunate experience with gardens is that if something is doing very well, it's almost certainly a weed. Some of the vine plants have climbed out of the flower boxes, scrambled across the tiled back yard, and climbed up the house. I tried to remove a couple of them, but when I pulled on their ropey stems, the entire flower box heaved and threatened to fall apart.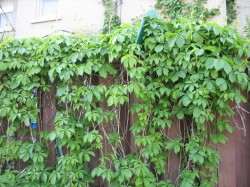 My plan for morning glories climbing my fence has been thwarted not only by the squirrels, but also by something spilling over from the neighbour's side of the fence – I don't know what it is, but it has talons and it's advancing a couple of feet each day.
My son gave me a barbecue for Christmas and it's in the backyard. I don't think there's room for a table and chair after all. If things keep going the way they are, the vine things will probably claim the barbecue and seal the back door shut by July.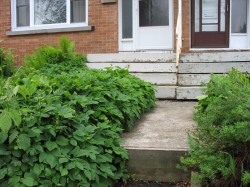 The front yard: Most of my neighbours have tidy little flower beds lining their walkways. I have this wild jumble of something that is taking over my side of the shared walkway. Do you recognize it? Is it a good thing, or is it a weed on steroids? Should I take a machete to it? I fear it's only a matter of time until my walkway becomes inpenetrable and the mailman stops coming.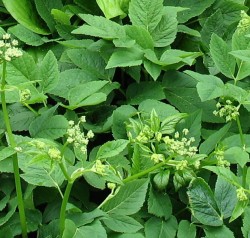 Here's a close-up of it. I need someone to identify it before it's too late.
(My previous gardening experience is limited to containers on balconies. I did have a house once, briefly, up near Wakefield, with an acre of land. However I was married to someone at the time who thought the only good garden was the kind that you paid someone else $5000 to plant and then referred to as 'landscaping.')