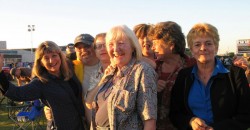 I ran into some of Stu's BBQ Blues Crew on Day 9, but without Stu. They've staked out a nice little spot in the centre of the field between the Main Stage and the Rogers Stage.
It truly is a primo location. They've got beer and Porta-Potties and food nearby.
"And the First Aid Station," said John, "Just in case."
As the action shifts from one stage to the other, they just swivel their chairs around, and they're ready for the next show.
Rita pointed out that their chairs aren't bothering anybody, because they're not competing with anybody for prime real estate. This is an excellent point.
The Bluesfest Chair Controversy has been raging for years, and frankly Bluesfest wouldn't be the same without it. I like the controversy.
But I was surprised by an email I received today from the Folk Festival email list. It said, in an aside: "And a final word of commiseration to the "sitters" among you who lost the battle to the "standers", again, at Bluesfest on the Lebreton Flats; at least you can rest easy that there will be no such hassles, mostly, at the Ottawa Folk Festival."
I am not a chair person, though I do know and like some of the chair people. Personally, I think there should be designated chair areas, and they should be set well back from the stages, because the chairs take up too much valuable space.
The problem is not really the chairs. The problem is that some of the chair people have an extraordinary sense of entitlement – they think their chairs should be permitted to sit unoccupied, reserving their space, while they're off doing other things. Worse yet, they think they should be entitled not only to the space their chair occupies, but to the line of sight between it and the stage. They refuse to accept the fluidity of crowds.
I'm short. I'm used to not owning my line of sight in a crowd. I spent a hundred bucks last year on a second-row seat at Cirque du Soleil, and then some guy with massive shoulders and a bulging neck and a freakishly large head took his front-row seat in front of me. Even a normal-sized person would have blocked my view, so I wasn't surprised or even pissed off. That's just life when you're short. It's also life when you choose to sit down in a crowd.
So I go to Bluesfest without a chair and not expecting to see the stage. I don't know why so many chair people get upset about not being able to see the stage. I guess they think that if they could see the stage when they first set up their chair, they have a right to keep being able to see it. But crowds are fluid, they seep into all the available spaces, and before long very few people – standers or sitters – can see the stage. (By the way, have you seen that seven-foot-something man at Bluesfest? I bet he can see the stage.)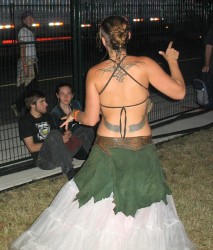 Last night I did get lucky at the River Stage for Xavier Rudd. Right beside the stage, there's a small platform holding a sign listing the day's lineup. I stood on the platform and had a birds-eye view of the huge crowd. I could see the stage too, but not the side Xavier Rudd was on, so it wasn't perfect. But it was a lot better than what I'm used to. I towered over everybody, including this dancer.
Anyway, I like the Chair Controversy because it's a time-honoured Bluesfest tradition. I hope it rages on forever.