I saw Sarah Harmer at Bluesfest yesterday. She seems like a good musician and a lovely person, and I wanted to like her show but I was a little bored. The thing is, I can walk all day but I find standing for an hour and a half in a densely packed crowd pretty hard. The music has to really sizzle to make it worth it, and Sarah didn't sizzle for me.
I also checked out Tony D's Power Hour over at the River Stage, which was kind of fun. Rockin' blues.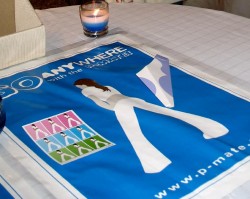 I visited the P-Mate booth. Years ago they gave these devices away for free at Bluesfest. They allow women to pee standing up. I was trying to remember what they were called the other day, and came up with the Shenis. But no, it's P-mate.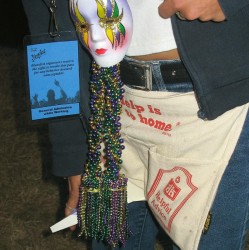 Basically it's a cardboard funnel. You unzip, lower your pants a little, position the P-mate, and pee into it. If all goes well, the pee travels through the funnel and into the Porta Potty, and you don't have to put your bare bottom anywhere near the disgusting porta-potty hole.
I tried it in 2001, and it really really works. The hardest part is trusting it and letting go. It was free back then. Now it's $5 for 5 pees, and you can even buy a P-mate poster ($5) or t-shirt ($20).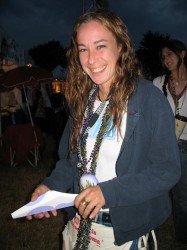 The P-Mate demo woman was lovely, but she didn't give me a free P-mate.
"But I'm blogging it," I said, "I should get a free P-Mate for my promotional efforts on your behalf."
She laughed and said she'd check out the blog and then decide if it warranted a free P-Mate.
So if you happen to visit the P-Mate Booth (over by the River Stage), be sure to tell them you read about it at knitnut.net. Maybe I'll get a free pee out of it.