I got to Bluesfest around 6:00 and lay down on the grass beside the giant inflatable beer can to catch a few much-needed zzz's while waiting for my friend. Then I ate a Chicken Divine, which wasn't divine but was edible. I drank water because I was still a bit hungover and couldn't face beer. I didn't much feel like being at Bluesfest, to tell you the truth.
But then I discovered the cure for a hangover and sleep deprivation: Béla Fleck and the Flecktones. Well, maybe not a cure exactly, more like a stay of execution.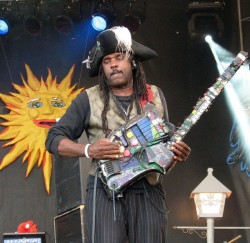 These guys are musical wizards, plus they're a lot of fun to watch. And I was finally close enough to a stage to actually watch the show and hear the music. Béla plays banjo, along with a one-man horn section, a percussionist who plays a bizarre homemade electric drumaphone (?), and simply the best bass player I've ever seen. (I'm no expert, and I do realize that bass is an important instrument, but I've never found it all that interesting…this guy made it sizzle.)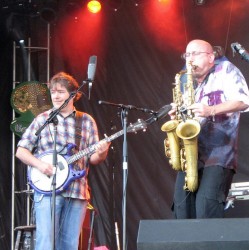 The horn player plays two saxophones simultaneously, which, ya know, is a bit of showmanship right up there with playing your guitar behind your head. But he also made the trippiest sounds come out of those saxophones…it was like they had human voices.
You know how Ottawa always wants an encore, even if the show wasn't very good? It's almost like we think it's rude not to request an encore. But last night the crowd sincerely and desperately demanded its encore. It screamed and chanted "ONE MORE SONG" for about ten minutes, completely drowning out the MC who was trying to make some announcements. The crowd was HUNGRY for more. We didn't get it, because George Thorogood had already started playing on the other stage, but it was not for a lack of trying.
After Bela Fleck, well, George Thorogood was just George Thorogood and the hangover and fatigue settled back in. We didn't stay for all of Thorogood, opting instead to go sit on a bench at the transitway to wait 45 minutes for the number 86.