After reading Christina Blizzard's assessment of Ottawa as a city rotting at its core, it occurred to me that perhaps I don't get out enough.
According to Blizzard, you can eat lunch on the patio of a posh downtown restaurant while watching literally dozens of drug deals and countless people sitting around smoking crack in broad daylight. (I assume 'countless' is even more than dozens.)
I decided it was high time to step out of my bubble and go investigate what's happening in the heart of O-Town. I talked a friend visiting from out of town into joining me. ("Are we blobbing it?" he asked. "Blogging," I said.)
As we disembarked from the #14 at the Rideau Centre, I half expected the pungent stench of urban decay to take our breath away, but it was surprisingly delicate.
We went to the National Gallery first, not because we expected to find the rotting core there, but because we wanted to see the Renoir Landscapes exhibit. And maybe the core would be more pungent after a couple more hours of rotting.
We didn't feel like dining in a posh restaurant or staying in an elegant B&B, which is where Ms. Blizzard got her birds-eye view of the cesspool we call Ottawa. But we figured we could improvise. We'd find us some nice fancy tourists on a patio, and just sit nearby on the sidewalk while they counted drug deals, since that, apparently, is what tourists from Toronto do.
It's not easy finding a posh restaurant on Rideau Street. There's Milestones, and we watched it for awhile, but its patios seemed to be sheltered from the general population. It looked like we might see nothing from there. (Well, maybe a little celebrity sighting: I understand that the mayor, Alannis Morrisette and Belinda Stronach all live in the condos upstairs.)
Eventually we gave up the search for a posh restaurant, and just wandered around the market, keeping our eagle eyes peeled for flagrant illegal activity.
We talked to a musical conspiracist, who believes the RCMP was behind the deaths of Brian Jones, Jimi Hendrix, Janis Joplin and John Lennon, because the RCMP wanted to put an end to 'festivals and tripping.' It was a pretty extensive theory.
We talked to a 60-year-old man who tried cocaine for the first time at 50, and who started using it because he fell for a woman who was heavily into it, and then gave it up several months later when the relationship soured.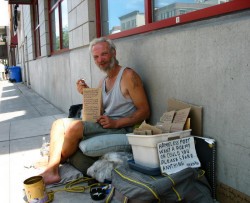 We bought a poem from Crazzy Dave, the homeless poetry busker, whom Gillian had mentioned in a blog comment last week. He told us all about his marketing strategy. He's been living 24/7 behind the Chapters store at Sussex and Rideau since October 28th.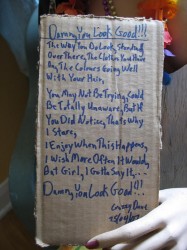 We searched the Market and the Rideau Bus Mall high and low, but we were unable to replicate Ms. Blizzard's results. We did not witness a single drug deal or see a single person actually smoking crack in public.
I was very surprised. I thought Ms. Blizzard's numbers were high, but I expected to see at least a few examples of what she reported. We were out there for hours, and didn't see any of it. Mind you a couple of our hours were spent on the patio of The Laff, which is not exactly a posh restaurant, but it is right in the heart of the allegedly rotting core.
We did see several people who looked like they might be crack addicts, most notably a rickety middle-aged woman with bad teeth who lurched from person to person with her hand outstretched, pleading for money. My friend pointed out that she might be a crack addict, or she might have psychiatric pharmaceutical problems.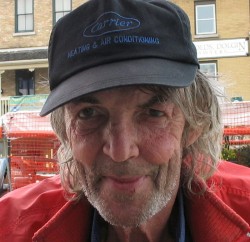 We saw a number of other panhandlers, but very few of them asked us for money: a one-legged man in a wheelchair, a tired old man with a cart. Most just sat quietly on the sidewalk with their hats in front of them, not asking.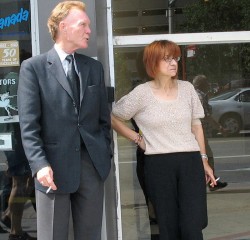 We came to the conclusion that Ms. Blizzard must have keener vision or more street smarts than we do. Or maybe she thinks everybody who's smoking something is smoking crack, and everybody who's poor or homeless is a scary scary criminal.
The good news is that we did indeed find the rotting core of Ottawa: it's in the washroom of the Second Cup at Rideau and Dalhousie.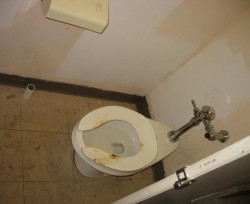 Related Links:
Apply Liberally's much more timely post about the Rotting Core article.