I used to be a drug addict on the streets of Ottawa.
That whole period of my life is a bit hazy, but it started in my teens and lasted a few years.
Amphetamines were relatively cheap and plentiful at the time, and they were my drug of choice.
I wasn't in good shape. I was malnourished. I weighed 88 pounds. I was dirty. I was broke. My behaviour was about what you'd expect. I took a lot of risks. I didn't realize how vulnerable I was.
My friends were other addicts. Most of them were older than me, and they looked out for me as best they could. We all knew we were all addicts, but we all knew we were individuals too, with different personalities and qualities and flaws. Everybody else saw us as drug addicts and nothing else.
I remember being afraid of people who weren't addicts. Everybody else seemed like an authority figure, and therefore somewhat threatening. I didn't seek medical help when I needed it, or any other kind of help for that matter. I was afraid to.
But I do recall a couple of people who offered me help.
One was a cop. He picked me up (literally) off the street on a viciously cold night after I'd fallen on the ice. I was lying in the intersection at the corner of Bank and Gilmour thinking "a car could run over me here, I should get up" but I just didn't have the strength to try. He put me in the front seat of his police car and drove around with me, just letting me thaw out. He told me he'd been watching me for a few weeks, and he wanted to help me but wasn't sure how. After I'd warmed up, he dropped me off where I was going, and told me that if I ever needed anything to let him know.
Another person who wanted to help was a social worker who asked to see me about the living arrangements of my younger brother and sister. She was very nice, and she talked to me like I was a human being rather than just a drug addict. She also told me to come see her if I needed anything.
Both those people made me feel that I was worth something, despite my addiction. They didn't preach or moralize, they just made me feel like I was worthy of a little human kindness. And that meant something to me.
I was lucky. I survived. I didn't get any incurable diseases or do any permanent damage to myself. I didn't end up with a criminal record.
And one day I had an epiphany. I suddenly realized, in one of those lightbulb moments, that it was time to quit, and I quit. I was high at the time, I wasn't planning to quit, and I had a two-day supply of drugs in my pocket, but I quit that very instant.
Why? Well, I was reading a book – I think it was called the Encyclopedia of Recreational Drugs. It was a pro-drug book, but it flat-out condemned amphetamines, which it called 'brain-rot.' At that moment, the phrase resonated with me. I think it was because it wasn't coming from a judgemental, anti-drug source; it was coming from a source I perceived as credible and objective.
In my case, quitting wasn't about hitting rock bottom: it was about realizing I still had something to lose and I didn't want to lose it.
It took awhile to make the transition from drug addict to 'respectable citizen.' At first I didn't fit into either of these two very distinct worlds. I felt like an outsider to both for a long time. Eventually I made the transition. I got healthy, made new friends, completed high school, went to university, established a career, and so on.
I rarely look back on those days, but last week's announcement about Ottawa City Council cancelling the Crack Kit Program caught my attention and made me reflect.
Crack is what is relatively cheap and plentiful these days. If I was a teenager today, with all other things being equal, I'd probably be a crack addict. And crack is a riskier drug, disease-wise.
The reason I support the crack kit program is because addicts are more than just addicts. They're human beings, with human frailties and strengths, who have fallen into a powerful trap. And some of them are going to find the strength to escape that trap. Harm reduction programs, such as the crack kit program, give them a better chance of surviving until they find what they need to escape.
The crack kit program does not send addicts the message that society condones drug addiction. It sends them the message that their lives are of value and their future is worth something.
I support that message.
---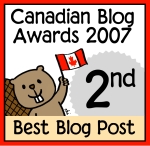 This post won second prize in the Best Blog Post category of the 2007 Canadian Blog Awards.
Tags: