Do you remember a couple of months ago, when my friend Janet decided to start eating beef, but thought you could leave raw ground beef in the fridge for three weeks? And then she subsequently froze, defrosted and refroze the beef? And eventually she would have eaten this meat and suffered horribly had I not intervened?
Well, the other day she emailed me and invited me for dinner on Saturday. "I thought I might actually make some beef," she said.
Tendrils of terror crept up my spine.
I emailed her back:
"Um, about the beef. Tell me more."
Because, you know, I don't want to eat beef that has had a long and colourful history.
"Ha!" she wrote back, "You fear Death by Janet's Beef, don't you?"
And then she assured me that the previous beef had been discarded and this new beef had been rushed from Loblaw's straight to her freezer, where it still remained in its icy slumber.
So I graciously accepted her dinner invitation, and showed up at the appointed time with a bottle of fine New Zealand wine.
This bottle of wine, unfortunately, was virtually unopenable. Eventually I did succeed, but it took half an hour and an assortment of tools, and there was some bloodshed. Instead of a cork it just had a thin plastic seal covered with an impenetrable metal wrap.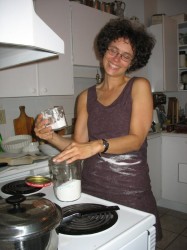 While I battled the bottle, Janet fought with the food. Apparently she was having a bit of a 'Calamity Janet' day, and more than one glass container had shattered on her floor. We kept our shoes on.
Here she is having a bit of a sugar mishap while making the teriyaki marinade for the beef.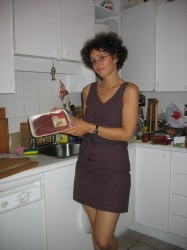 Oh, and here's the beef, which was appropriately defrosted in the refrigerator. (She admitted to originally putting it out on the counter to defrost, then immediately having doubts that sent her to the internet for more information, and then racing back to the kitchen to put it back in the fridge.)
The Beef Boycotter (remember her?) arrived a bit later with an easier bottle of wine and a story about her great-grandfather's leaky canoe.
We spent the next couple of hours drinking wine, chatting and shucking peas at the dining room table. Meanwhile, the beef – which Janet had hacked into thin strips with a letter opener – marinated in the fridge.
Dinner was running late, but suddenly, when we were least expecting it, Janet announced that some food was ready! It was a Lentil-and-Kale soup. I didn't think to take a picture of it until I'd almost finished eating it. There are some very good reasons Gourmet Magazine doesn't show photographs of half-eaten food, and I'm going to take a page from their book by not posting that photo. Suffice it to say the soup was both delicious and beautiful.
Shortly after the soup was consumed, it was time to cook the beef. We all gathered in the kitchen for this event, Janet, the Beef Boycotter and myself. Janet said the recipe was too vague for the uninitiated: "Cook the beef briefly."
We discussed whether the thin strips of beef were fully cooked yet (they were, but Janet still finds beef a bit disturbing, so she wanted to make extra sure). Janet explained why beef is good for you (iron) and why it's good to eat some beef with things like Lentil-and-Kale soup (there's something in the beef that helps you absorb the iron from the lentils and kale).
I love beef myself, but I got the impression that the others were still trying to talk themselves into eating it. Like me and seafood: I have to psychologically prepare myself for it, because I find it kind of gross.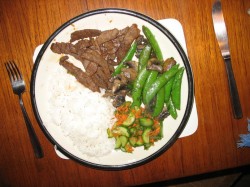 Anyway, suddenly everything was ready and dinner was served. Look! Stir-fried teriyaki beef, saffron rice, sweet peas, mushrooms, and a cool cucumber salad.
Janet watched and waited while I took the first bite of beef.
"It's delicious!" I said, and she looked so happy and relieved.
And it really was delicious. Everything was.
There was dessert too – fresh strawberries and blueberries! I love berries.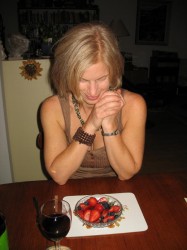 We ate it all up while emptying a couple of wine bottles and talking about all kinds of interesting things. It was an excellent evening.