This post is just a little hodgepodge of things.
1) Have any of you ever had any training from a company called Eliquo in Ottawa? I'm looking for high quality Dreamweaver CS3 training. If you've ever taken a course (Dreamweaver or anything else) from Eliquo, I'd appreciate hearing your thoughts about them. Also, if there are other training firms in town that you have opinions about, please let me know. You can leave your comments in the comments or email me at soozoom(at)yahoo.com.
2) Hartman's YIG at Bank and Somerset is advertising half a bushel of eggplants for $7.99. How's that for a sale, eh? Just what I always wanted, half a bushel of eggplants.
3) Life is No Longer Everywhere.
Remember this local blogging community project?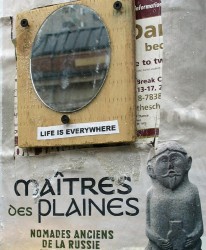 My contribution looks like this now: