Once every four or five years, I buy a new computer. I've been doing that for about 20 years now. The first computer had 2 megs of RAM, dual floppy drives, no hard drive, and CGA colour. A year or so later I upgraded that computer to 4 megs of RAM, and it cost me about $300 to do that. There was a profound difference between 2 megs and 4 meg. (My current home computer has 512 megs of RAM. My work computer has 2,000 megs of RAM. It's not nearly as much of a difference as there was between 2 megs and 4.)
Back then, when you bought a new computer, it was leaps and bounds better and faster than your old computer. Everybody I knew who had a home computer used to salivate over the new computers that were coming out, and we used to do a lot of comparing. We all knew exactly what we had (286, 386, 486, P75, P2, P3, etc) and how much memory and how much disk space and so on.
Now nobody talks about this stuff anymore. I can't remember my computer's specs. Every now and then I just go buy a new one when my old computer dies or can't meet my evolving computer needs. The numbers aren't that important anymore. A computer is a computer is a computer.
But I experienced computer envy this week.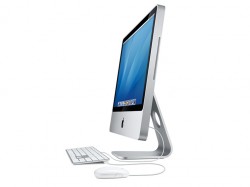 I was in training at Eliquo for a couple of days, and they just got brand new iMacs. These machines are so sleek and streamlined. There's no box! There's just a wide, slim monitor, and everything's in there – the hard drive, all the ports (usb, firewire, etc), and the CD/DVD drive. I think there's a webcam in there too. There's a sexy silver keyboard and a mighty mouse, both wireless. There's just one plug into the wall, and no tangle of peripherals and cords. See?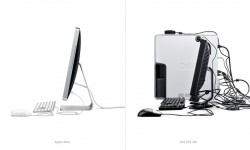 I've never used a Mac, but these things have two separate operating systems, one for PCs and one for Macs. You can run Windows and Windows software on it if you want.
I'm seriously thinking about getting an iMac the next time I need a new computer, which I expect will be within the next year. I know next to nothing about Macs, so I hope some of you might tell me what I oughta know before I make the decision.
Some of my concerns:
Will my current peripherals (camera, printer, scanner, GPS forerunner, backup unit, etc) work with the iMac?
Will my current files work with the iMac?
If I have both the Windows and OSX installed, can I work back and forth between them, or do I have to exit one OS to access the programs in the other? And are the files compatible between them?
Will I need to re-buy all my software?
How much of a learning curve is there?
How's Apple's service? (I see the closest Apple store is in Toronto…that's not so good.)
Is the iMac made in China?
Is there anything else I should know?