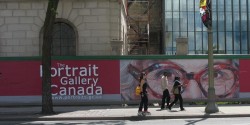 I don't get attached to all that many projects in Ottawa, but I've been looking forward to the Portrait Gallery. I love paintings and photographs and faces and there was talk of combining newer technologies with older ones to have some interactive portraits. The whole project struck an historical/creative chord with me.
And then, quite some time ago, Harper put the brakes on the project in mid-stream. I was disappointed, but I still thought there was hope.
Now I hear the project is off because Harper wants to use the building (it's the old US embassy, across from Parliament Hill) as a swanky greeting room for his international visitors.
Well screw that!
My gut reaction is one of disappointment. I wanted it, and now it's not gonna happen. But Kelly Egan put a lot more thought into why he's disappointed with this decision, and I agree with every word in his column today. Here's an excerpt:
Gee. National art repository of international stature — with lots and lots of keen visitors and maybe a cool coffee shop with great views of the Hill — or closed-door parlour for Mr. Big-Pants in a blue suit. What works better for you?
Read Kelly Egan's column here.
I wonder if there's any way to turn this decision around.