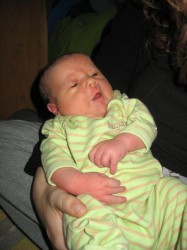 So yesterday I went to visit the baby Sam. I've been raving about this baby to anybody who will listen. How wonderful he is, how peaceful and radiant, how he never cries, how his eyes look deep into your soul, how he imparts calmness and serenity to all who are blessed enough to touch him, how he embodies everything that is good about the human race. (He's a very nice baby.)
He was waking up when I got there, which was great because I really wanted to lock eyes with him and have him gaze into the very depths of my soul and perform a mind-melding peace infusion on me.
I reached out eagerly and Kerry handed him to me. He gazed into my eyes and burst into tears.
"Oh!" said Kerry, surprised, "He must be hungry."
I handed him back to her, and he immediately became serene. She put him to her breast, where he suckled contentedly for several minutes. Then she passed him back to me.
He gazed into my eyes and burst into tears.
"Oh dear," said Kerry, "he probably just needs to burp."
I passed him back to her, and she burped him. He settled comfortably into his usual blissful state. She placed him gently into my waiting arms.
He gazed into my eyes and burst into tears.
"I don't know what it could be!" said Kerry, almost apologetically, "He never cries!"
As you can imagine, this did not make me feel better. I passed him back to Kerry.
Then I noticed that one of his arms seemed a little floppy. You know how babies always move both arms together? If one arm goes up, they both go up. They don't learn how to operate their arms independently till later. But Sam was flapping just one arm.
"Is his arm always like that?" I asked Kerry.
"Like what?" she asked.
"Kind of limp," I said.
She laid him on the floor and started inspecting him. This was the first day he'd been wearing a sleeper instead of being swaddled, so his limbs were more noticeable.
It turns out Sam probably has a broken collarbone. The collarbone is the most frequently broken bone during childbirth, and Sam had a pretty rough birth. The collarbone breaks if it needs to, to facilitate the baby's passage through the birth canal. It's better than the alternative, which is the baby getting stuck in there forever.
Kerry called the doctor and the doctor said it's not an emergency. There's no treatment, and it'll heal on its own. They'll take a look at him on Friday.
Of course this doesn't explain why he burst into tears every time he looked at me. I've been trying to come up with an explanation more palatable than The Baby Doesn't Like Me. Do you think maybe the intensity of our mind meld caused him some kind of spiritual anguish?