I've gathered a little collection of oddities from around the web for you this week.
1) This first one is an optical illusion right-brain-left-brain test. Is the lovely lady spinning clockwise or counter-clockwise?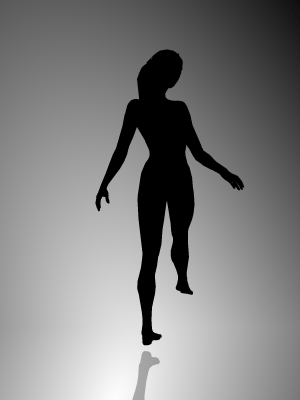 If you see her spinning clockwise, then your creative right brain is dominant. If you see her spinning counter-clockwise, then your logical left brain is dominating.
(Personally, I find she changes directions every few seconds.)
(If anybody knows the original source of the spinning lady optical illusion, please let me know.)
Here you can take a more detailed left-brain-right-brain quiz.
2) This next web oddity rates 100 on the wow scale, but it comes with a word of caution: if you're offended by freaky nudity, you'd better not click. (If you do click, however, make sure you cycle through all six pictures.)
3) For those of you who chose to stay here instead of clicking over to that freaky nude thing, here's a very sweet YouTube video of six-year-old Connie wowing Simon Cowell. I think she'll wow you too. You might even cry.
B) And finally, a special bonus link to an excellent post by Dr. Dawg, entitled Life in Ottawa.