Last week I resurrected the Antique Photo of the Week feature, with a series of photos of children and their toys. Today I'm finishing that theme off and maybe next week we'll ring in the new year with some post mortems or something.
This little Montreal girl does not look at all pleased to be getting her picture taken with her tea set and her dog. (As always, click on the thumbnail for a larger version of the image.)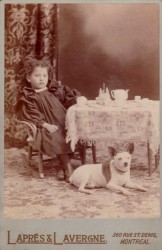 This little girl (or maybe it's a little boy – sometimes very young boys were dressed as girls in Victorian times) is holding what appears to be a bat. Using a loupe to view the cap, I see that it says HMS Nelson on it, after Horatio. There's probably an long-lost interesting story here. The photo was taken in Hamilton, Ontario, by W. Farmer.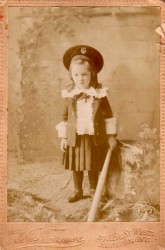 Just a girl and a doll, taken at the Gilbert Studio in Philadelphia.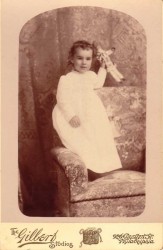 This is one of the few identified photos in my collection. Her name is Fedora Pottle, daughter of Ellen and Allen Pottle. Great name. Fedora Pottle. If I get a cat I might name it Fedora Pottle. Fedora Pottle's photo was taken in Oakland, California, by F.O. Haussler, Fotografer.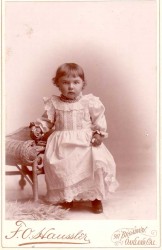 Here's a close-up of Fedora Pottle's doll.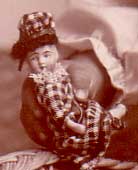 I love how the children are holding hands in this photograph. Very sweet. But what's most interesting about this photo is the object beside the little girl. I think it's a toy of some sort, and I believe it's got a picture of Queen Victoria on it. My grandfather, who grew up in Germany, told me that on the first day of kindergarten children were given these horn-shaped things that were filled with sweets. I wonder if it's something like that?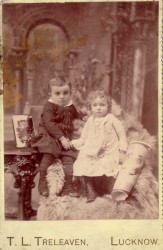 I think it must be a toy or something because I can't imagine parents asking that their children be photographed with a rolled up photo of Queen Victoria.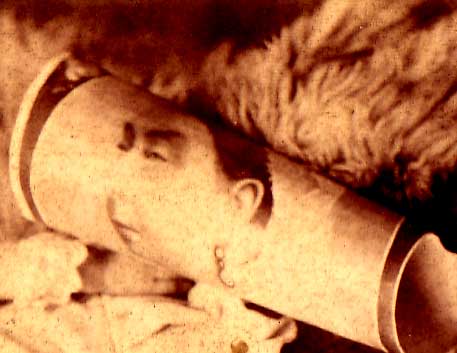 Tags: