It has been many, many weeks since we had an antique photo of the week: I've been remiss.
Since Christmas is coming, let's do some children with their toys.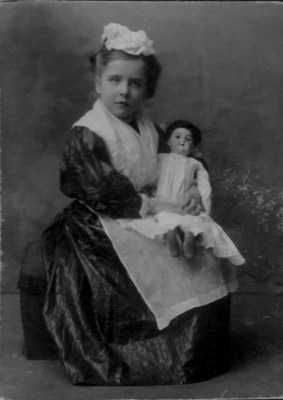 I don't know much about dolls, so I can't identify them. I have a collection of boudoir dolls from the 1920s and 30s, but the dolls in these photographs are from the late 1800s. (If you know dolls, I'd love to know more about these ones.)
I like this image a lot. The little girl is dressed like a nursemaid, with her starched pinafore and cap, and poses with her doll. It's mounted on a piece of heavy cardboard, and it's from Smiths Falls, Ontario.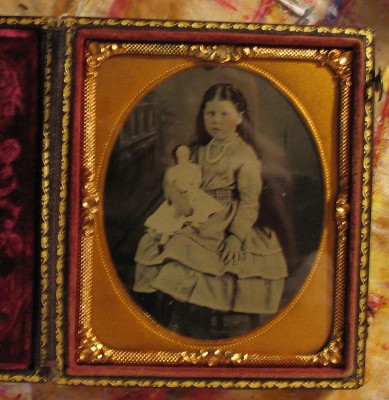 I was given this image by a friend not that long ago. I thought it was a daguerreotype when I first saw it because of the depth and clarity of the image. But it's an unusually nice sixth-plate tintype of an unsmiling pink-cheeked girl and her doll.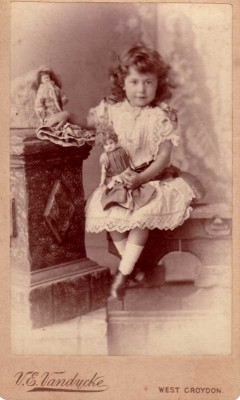 This one is a carte de visite (CDV) by the photographer Victor Emanuel Vandycke, of 23 London Road in West Croydon. I don't know who the lucky little girl is, but she's got two dolls.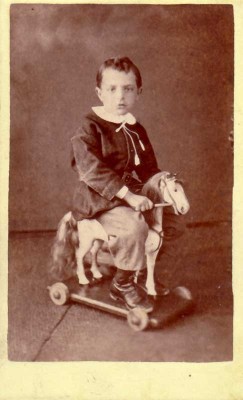 It's not all about girls and dolls. I have a boy on a magnificent wheeled horse. This CDV was taken by the photographer Lundy, of Waterloo, Ontario. The boy would be about 105 years old now. The horse would be worth a fortune, I think.
Hmm. I'm just rummaging about in my box of old photos and I see there are a few more children with toys. Maybe next week we'll do Part II.
Tags: