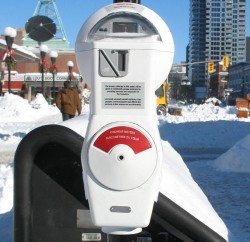 Don't you just love how Mayor Larry comes up with all these facile 'solutions' to complex problems? Scrap the crack kit program to get rid of addicts. Bribe the competition to bypass democracy. Install "Kindness Meters" to eliminate panhandlers.
The Kindness Meters, if you haven't heard, are refurbished parking meters, now being used as the City's panhandling machines. There are six of them stationed around the Byward Market.
Mayor Larry's idea is that we should put our loonies and toonies in the kindness meters instead of giving them to panhandlers. The City will empty the meters and distribute the change to social service agencies like Operation Go Home and The Mission, which provide services to homeless people.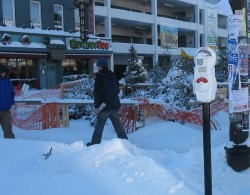 I see several problems with the Kindness Meters.
1) They're insulting to poor people. The underlying assumption is that poor people can't be trusted to know what they need.
2) They attempt to dehumanize compassion. Giving is about a compassionate spark that sometimes flashes between two human beings. I don't give to every panhandler I see – far from it. But when I do give, it's because I feel something for that human being at that moment. Maybe Mayor Larry has never felt that for another human being, but I will never feel it for a machine.
3) Kindness Meters could conceivably lead to an increase in crime. If, as Mayor Larry says, panhandlers are using our spare change to feed their addictions (and no doubt some of them are), how will they feed their addictions without our spare change? Because one thing's for damned sure: the Kindness Meters aren't going to cure anybody's addiction. Build a treatment centre already! In the meantime, if my spare change means someone doesn't have to break into a house or turn a trick she doesn't want to turn, I'm good with that.
4) The Kindness Meters introduce a layer of bureaucracy into the equation. Instead of individuals directly helping individuals, we now have to pay the City to collect and administer our spare change. (There are similar meters in Montreal. Each one pull in an average of $11 a week.)
5) There is no guarantee that the panhandlers most directly in need will receive any help. Many mentally ill people, for instance, are too frightened to use shelters or social services.
6) The Kindness Meters put social service agencies in direct competition with their clients for our spare change. I'm actually quite surprised that these agencies agreed to take this money, and would like to know how they justify it.
7) How elitist of the Kindness Meters to only take loonies and toonies!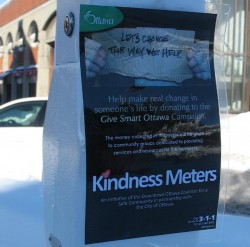 But my main objection to the Kindness Meters? The concept is based on hypocrisy and stinginess.
Larry O'Brien pretends that these meters will offer "real" change, instead of spare change, to homeless people. I call bullshit.
This is the same mayor who compared homeless people to pigeons and said if we stopped feeding them, they'd go away. We know where he stands on this issue. When he tries to fake compassion he just looks like the rich, stingy hypocrite he is.
This initiative is not about alleviating poverty or helping homeless people meet their basic needs or offering solutions to people who need real change. It's about sweeping people with problems out of sight for the benefit of businesses and tourists. It's about pretending we're doing enough so we don't have to feel guilty about the miserable conditions some of our fellow citizens are living in. It's about creating the illusion of universal prosperity and well-being in downtown Ottawa by getting rid of anybody who is down and out.
The reality is that we do have a mix of people in this city, and some of them are poor and some of them are mentally ill and some of them are addicts. I'm all in favour of real change and real solutions. But let's not pretend that's what we're doing by putting up some so-called "Kindness Meters." It's just a hostile attempt to drive away the street people, and there's nothing kind about it.
Tags: