A couple of weeks ago I asked you for tips about how to achieve that Christmasy glow with a minimum of time and effort. And you responded with tons of excellent ideas.
Nancy, Patti, Deb and Malva all said to get a real tree, even if it was just a small one. So I got a 4 foot balsam on Sunday evening. But by Monday evening I had to admit it was an odourless balsam, which was kind of disappointing. And I was in a bit of a cranky mood because it was Monday and my tree didn't smell Christmasy and I wasn't feeling Christmasy and blah blah bah humbug.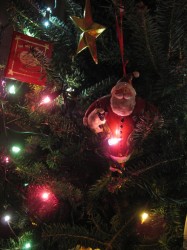 So I stomped into the kitchen and made Megan's Christmas brew, only I wasn't making it to drink, I was making it to smell good. So I went heavy on the cinnamon sticks and cloves, and I threw in a peeled clementine orange. Before long, it started to smell incredibly yummy and Christmasy and I stopped being irritable and I stopped resenting Christmas and I started humming O Tannenbaum! and decorating the odourless balsam.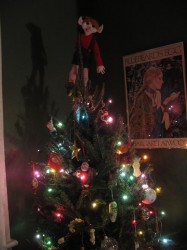 My house smelled wonderfully of Megan's Christmas brew for two full days. (I've got another batch on the stove right now).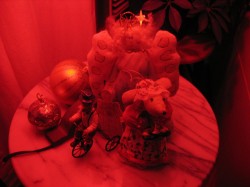 What else? Well, David suggested I replace some ordinary light bulbs with red or orange bulbs, so I did that. This gave my home that warm, hospitable, red-light-district glow. There were a handful of Christmas treasures left over with nowhere to go, so they gathered companionably in the lamp's rosy glow.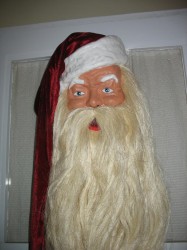 Lots of people suggested a wreath. I haven't done that yet, because I'm not sure how to attach it to my door. Last year I tried to hammer a nail into the door so I could hang BJ Santa (my mother named him that years ago; I had nothing to do with it). But the door is too hard to hammer anything into it. Suggestions?
Meanwhile, I hung BJ Santa on the back door, where he lends a certain warm, inviting, perverse charm. (Speaking of perverse Christmas charm, have you heard about the Rogue Elf?)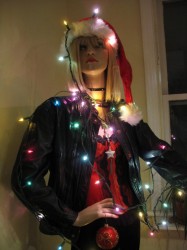 The mannequins love a little extra sparkle at Christmas, so I decorated them next.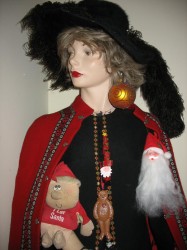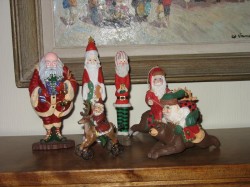 And then I put out my little collection of Saint Nicks. One of the things I do like about Christmas is going through the Christmas box and finding all the treasures I'd forgotten about. Like the collection of Santa Clauses.
There! Now I'm all awash in Christmas minimalism. I might even bake some gingerbread, if I can find a nice easy recipe.
Tags: