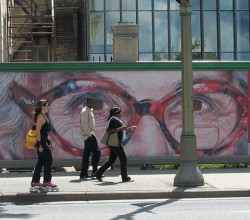 As reported earlier, the Prime Minister axed our Portrait Gallery project so he could claim the building for himself. It's the old US embassy across the road from Parliament Hill. He's planning to use it for important meetings with foreign dignitaries. And, as you know, a few dozen foreign dignitaries are much more important and deserving of prime Ottawa space than a few million residents and tourists. So screw us.
Now, instead of the trippy portraits that used to decorate the wall around the building, there's just a plain and dreary wall. All traces of the original plans for a vibrant public space in that building have been erased. Its new future is effectively conveyed by the plain and dreary wall: it will be just another boring, high-security, inaccessible private space on Wellington Street.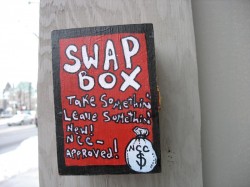 But wait! What's that tucked around the corner on the very end of the plain and dreary wall??
It's the brand new NCC Swap Box!
I suspect the NCC qualified for its own Swap Box the same way Larry O'Brien did – by virtue of its notoriety as a Big Stakes Swapper. The Swap Box says "The NCC traded Lebreton Flats for $7 million. What'll you swap?"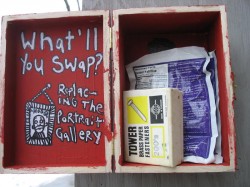 A portrait is painted inside the Swap Box, and it says "Replacing the Portrait Gallery." There were two packages of hot chocolate and a package of brass paper fasteners. Since it was a cold and blustery day, I swapped one of Julia's fleece-lined glasses cases for a hot chocolate.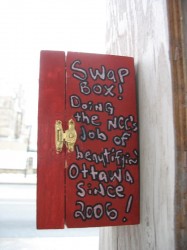 This Swap Box even had a bit of Swap Box history painted on its least viewable side. It said "Swap Box: Doing the NCC's job of beautifying Ottawa since 2006!" (I've learned to always look at all the sides of a Swap Box.) (But I think I forgot to look at the bottom of this one.)
I don't think this Swap Box will last long, so hurry down and see it before the authorities do!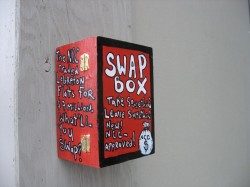 ---
I almost didn't check my mailbox this morning because it was twenty-six degrees below zero with the wind chill and who in their right mind would deliberately stick their pyjama-clad arm outside into those conditions? I did, and was rewarded with something interesting in my mailbox.
It's a zine called Lifelike, Issue 02, published by Chris Binkowski in 2005. I haven't finished reading it yet, but this guy is quite something. He's 27 years old, lives in Ottawa, is an active and creative multimedia artist (video, writing, photography) and he has Duchenne Muscular Dystrophy. (I googled it, and it's not good – people who have it rarely survive beyond their early 30s.) He has a channel on YouTube if you want to check him out. He's good.
---
Speaking of 26 below zero, did you hear that Environment Canada is predicting a particularly cold and snowy winter for pretty much all of Canada? Do you believe it?
---
The old hotel at the corner of Bank and Somerset will be demolished on Tuesday or Wednesday. Way deep down I'm an incurable optimist: I hope the property owner will build a Portrait Gallery in its place.
Don't ever let anybody tell you it's easy being an incurable optimist AND a cynic.
Tags: