Walk?
Walking has been an ordeal all week. Monday there were no plowed sidewalks. I was patient because 37cm of snow fell on Sunday and I'm a reasonable person. I clambered to work through the snowdrifts and didn't complain.
Tuesday and Wednesday there were some plowed sidewalks, but it was still a lot of work to walk to work.
Today many of the sidewalks had a thick coat of greasy snow. I hate that kind of snow. You can't get any traction, and it takes a long time to get anywhere because you slide back a little with every step. My friend says it's like doing the moondance.
Walking has sucked this week.
Bus?
I take the bus home from work most days. This week has been a busing nightmare. On Tuesday I waited over an hour for the #14, which is supposed to come every 15 minutes. I'm told Wednesday was even worse. The woman beside me was almost crying because her feet were so cold. After work the last thing you want to do is stand on a street corner for an hour, slowly freezing, wondering if all the buses have been cancelled or something.
At one point I turned to the woman next to me and said "If this goes on much longer, we'll have to eat somebody."
I was just kidding. I wasn't that hungry. But if I'd had a log and some kindling and matches in my knapsack, I would have built a little fire and cooked someone just to warm things up a bit.
Eventually a bus came. It was bursting at the seams with passengers. It was the most over-crowded bus I've ever seen outside of Greece. A very nice bus driver let us all on, even though we were crammed into him and the door and flattened against the windshield.
It took me an hour and 45 minutes to get home that day, and I live 6.5 km from work. I could have walked it faster, and I would have been warmer too. But how was I to know the bus was going to be an hour late?
And does anybody else wonder where all the missing buses go? I can understand that the buses will run late when traffic is bad, but shouldn't there still be one arriving approximately every 15 minutes? Wouldn't the 5:00 bus be there at 6:00, and the 5:15 bus be there at 6:15? Etcetera?
Anyway, the buses have been tortuous this week.
Car?
I don't drive, but people who do tell me that this week has been hell on wheels for drivers. Between the snarled traffic, huge snowbanks, bad road conditions, reduced lanes, and pedestrians walking on the streets, it's been slow, frustrating and hazardous trying to drive anywhere.
Taxi?
I rarely take a taxi. But last night I was at a party in Chinatown, and around 10:00 I decided to treat myself to a cab home. I called Blue Line. They told me they could send a cab if I didn't mind waiting.
"How long?" I asked.
"Anywhere from half an hour to two hours," he said.
Half an hour to two hours? If I wanted to wait half an hour to two hours, I'd take a bus.
I walked.
Bike?
I've seen the occasional bike out there, but I haven't talked to any bikers about how it's working for them this week. They've got to be going faster than everybody else, right?
Snowshoes
I was impressed with the woman on snowshoes going over the Somerset Street railway bridge. She gets bonus points for ingenuity. But sidewalk conditions weren't consistent enough for her to leave the snowshoes on. Sometimes she had to carry them.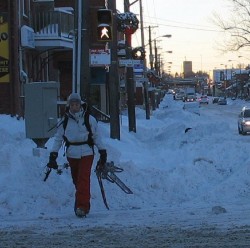 Public costs of various methods of transportation:
I got this breakdown from Ottawa City Councilor Diane Holmes today:
The total public cost (not user cost) per passenger trip:
Car driver: $2.50
Transit user: $1.76
Cyclist: $0.24
Pedestrian $0.10
(source 2003 "Costs of Travel Report" Delphi/MCR for City of Ottawa)
You'd think if they wanted to encourage us 10-cent pedestrians, they'd make walkability a priority in this city.
Stompers wanted
Tonight on my way home from work I stopped at the Plouffe Park skating rink to help Carol stomp snow. Volunteers need to stomp all the snow inside the rink down so it gets compacted before the rain starts on the weekend. Carol and I stomped for an hour and got about half of it done. (If you're around Preston and Somerset and have a few minutes to spare, please go help stomp for a bit. It's the rink right behind the Plant Recreation Centre.)
Carol was saying that as bad as sidewalk conditions are now, they're going to get a lot worse if the City doesn't get rid of the snow before the rain starts this weekend. Those mountains and humps and banks and ruts will all be frozen into place by Sunday, immortalized till Springtime.
Happy last day of Fall, by the way.
Tags: