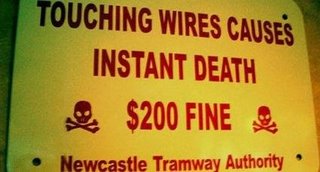 Remember last week when I wondered if the streetcar tracks in Toronto would electrocute me if I stepped on them?
Well, it got me thinking about electricity. I have a morbid dread of electricity going bad, because when electricity goes bad, it can go very bad, very quickly and dramatically, with no warning. With volts, and amps and all kinds of awful things. One moment you can be happily and obliviously changing a lightbulb or scaling a tower or something, and the next thing you know, wham, you're dead on the ground with smoke coming out of your ears. I saw what happened to the squirrel that touched the wrong part of the electric thing in my yard on Rochester. His eyes burst right out of his head.
I think the reason electricity scares me so much (apart from the fact that it just IS scary) is that I don't understand it. I've never understood it. I think we learned about it in physics, but it didn't make any sense to me, and I can't retain information unless it makes sense. Various people have tried to explain electricity to me since then, but it goes in one ear and out the other (har har).
Some of us were talking at work the other day about what we'd do if we were in high school now and choosing our future careers. We all thought the trades would be a wise path to pursue.
"Electrician?" asked the consultant.
The editor and I both had the same instant visceral reaction to that suggestion. We absolutely, completely, gut-level, out-of-hand rejected any possibility of ever being an electrician. (And we both thought a nice girly trade like cabinetmaker would be the way to go.)
I have two memories of electricity as a child.
My sister stood on a chair to fix a flickering lightbulb, and suddenly she was not on the chair anymore and she was crying hard. She was okay after a few minutes, but I was vicariously traumatized. I wanted to know what had happened, and why, and most importantly, what it had felt like and why she was so scared. But she couldn't explain what had happened or describe the pain. I inspected her hand but there was no blood, no bruise, nothing. I think that was the day electricity became the Invisible Enemy.
The other memory is of a series of events when I was thirteen and living in Kinburn, Ontario, population 300. Teenagers, being teenagers, needed more kicks than sleepy, drugless little Kinburn was providing. Sometimes we smoked cigarettes behind the boards at the skating rink. Sometimes we hyperventilated and then held our breath till we got high and passed out from oxygen deprivation. And sometimes we all joined hands and one person would grab hold of the electric fence. Yee haw.