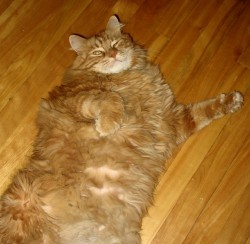 I promise I'm not turning into a cat blogger, but please indulge me while I blog about my cat one more time.
He's such a dog, this cat! Not only does he follow me everywhere but he licks my face! And you know how dogs shake their whole body when they're wet? Every couple of hours this gigantic cat gives himself a gigantic shake! It's very loud.
I was making some pudding last night, and the whole time I was standing by the stove stirring the pudding, the cat was lying at my feet, on his back, spread-eagled. That seems to be his favourite position when he's not on my lap.
I made a bed for him beside my bed in case he wanted to sleep there. But he was in my bed before my head hit the pillow. He doesn't sleep with the feet, he sleeps with the face. Any time I changed positions during the night, he changed positions. Sometimes he walked across my chest to get to the face. THUMP THUMP THUMP across my chest.
At 4:00 he woke me up for some extra cuddling. At 5:00 he woke me up for some grooming (he was grooming me, licking my face all around the hairline with his dry sandpaper tongue). At 6:00 he woke my hand up so it could pet him. At 7:00 he was purring ferociously in my ear. At 8:00 I had to get up because my arm had fallen asleep underneath him.
I went for a run and when I got home he ran to the door to greet me. He licked my feet while I did my stretches. He waited on the bathmat while I took my shower.
I was originally thinking he needed a magnificent name. A glorious name, because, as Megan so astutely noted, he is an especially glorious cat. But now I'm thinking he's not really a magnificent lion after all, he's just a gigantic pudding head.
I think his name might be Duncan. Duncan Donut, the Glorious Dogcat.