So. What were YOU doing at four o'clock this morning? Hiding from your cat? What a coincidence!
Yesterday was exhausting. I spent the day in meetings in Montreal, which is highly unusual for me, and didn't get back home till around 7:30.
I could tell you about the gut-wrenching stress I experienced as a result of the #14 sailing past me in the morning because it was full, and worrying myself sick that I was going to miss my train as a result, but I'll just gloss over that part. I'll leave out the train meeting and the Montreal meeting and the train meeting on the way home. I won't even mention the taxi ride home with the driver who was talking on the phone while zipping in and out of traffic at 125kph on a strangely crowded Queensway.
I'll just jump right to getting home at 7:30 and being reunited with my cat who was hungry.
I hate to tell you this, but my cat is not quite as charming as he was in the early days. I think he's starting to take me for granted. He gets a little bit cranky and demanding at times. Sometimes he even nags me to do his bidding. You know how cats can get that petulant tone? Sometimes Duncan has it. And you know how they can combine the petulant tone with efforts to trip you on the stairs? He's done that a couple of times too.
Oh don't get me wrong, he's still a big ol' puddin' head when he wants to be. Bedtime is blissful. That's when he's happiest because he doesn't have to share me with you guys or knitting or anything else. He gets my undivided attention. I love how he sleeps under the covers with his head on my pillow, purring up a storm, kneading me gently with his claws. And I've found I sleep much better with a cat than without. He has been very good for my insomnia, even though he tends to wake me up at dawn.
So anyway, back to last night, 7:30, exhausted, reunited with Duncan. First I fed him, then I checked email and so on. By 8:15 I couldn't stay awake another minute, so Duncan and I headed off to bed. We settled into our usual bedtime routine and fell fast asleep.
At 4:00 I woke up to a tongue in my eye. I struggled against it. But the tongue was determined. I threw my arm across my face to protect my eyes. The tongue found my ear. I pushed him away. He came back. He placed his paws firmly on my chest, to prevent me from squirming away, and started aggressively washing my face. I heaved his 22 pounds of heft off of me, flipped over on my stomach, and buried my face in my arms. He stood on my back and started biting the back of my head, like he was trying to pull burrs out of my hair. Again I heaved him off of me, and this time I grabbed the blankets and pulled them over my head, sealing all the edges underneath me. He checked all the perimeters, looking for a way in, poking his paws at me, making strange noises, acting all weird.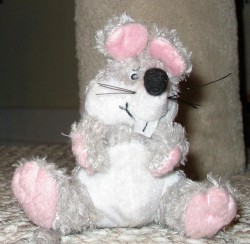 Anyway. I bought Duncan a toy today at lunch time. It's a squeaky catnip mouse. I've been trying to teach him how to play for the past week. I don't think his last people played with him much, because he seems kind of stunned about the concept of playing. However, he did play with the mouse for about three minutes tonight, so that's progress.