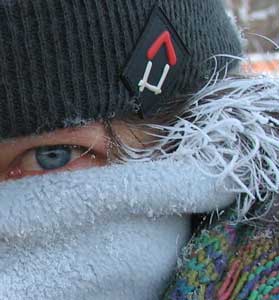 Things are still pretty frosty out here on the streets of Ottawa, including my hair.
Yesterday I fell down for the first time this year. Right downtown on the corner of O'Connor and Slater. I stepped on a patch of black ice and smashed into the sidewalk on my elbow and hip. You'd think my first reaction would be pain or shock or annoyance or something, but no. It was embarrassment. I don't know why we feel embarrassed when we fall down. (HA! I'm saying "we" like you're somehow complicit in it. Do you feel embarrassed when you fall down?)
Speaking of falling down, the Rideau Canal should be opening in a few days. It's off to a bit of a late start this year because of global warming. I'll be walking to Dow's Lake and then skating to work downtown. And you know why? Because only a very small handful of people on the whole entire planet can skate to work, and I'm one of them. If you live in Venice, you oughta take a gondola to work occasionally, and if you live in Ottawa, you oughta skate to work once in awhile. Maybe I'll rig up a Zoom-Cam on my forehead so those of you who can't skate to work can experience it vicariously through me. (It'll be even better for you, since you'll be nice and warm and upright.)
I like to skate first thing in the morning. The ice is at its best then, all newly flooded and polished and uncracked and clean. As the day goes on, it develops ruts and holes and a layer of snow scrapings and pools of blood. I find the blood disturbing.
Speaking of blood, I read today that a nine-year-old Australian girl who received a liver transplant changed blood types spontantously afterwards and adopted the immune system of the liver donor. Apparently it's the first time this has ever happened, and they're trying to understand why so they can replicate the results. I always thought that the donor had to be the same blood type as the recipient, didn't you? But apparently not. It works like this:
Blood Type
Can receive liver from:
Generally can donate liver to:
0
0
O, A, B, AB
A
A, 0
A, AB
B
B, 0
B, AB
AB
O, A, B, AB
AB
I'm Type O neg, the universal donor. I'm inexplicably proud of it, too.
—————————
UPDATE UPDATE UPDATE: Check out the ESI's sidebar for the Zoom Cam!