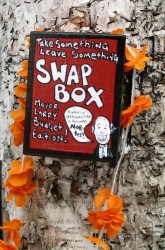 I pass the Mayor Larry Swap Box on Lisgar Street on my way to and from work, and sometimes at lunchtime too, so I have an ongoing relationship with it. Sometimes I make a swap, other times I just leave something or take something. Sometimes all I do is peek inside.
For about a week now I've been leaving a homemade Artist's Trading Card (ATC) in the box each morning. I write "Zoom" and "www.knitnut.net" on the back, slip it into a plastic sleeve, and leave it in the swap box.
Sometimes it takes all day, but eventually someone takes my ATC. (It probably doesn't hurt that this particular swap box is right outside Wallack's art supply store.)
Yesterday the finder of one of those ATCs left a comment on the blog! She's a student at the Ottawa School of Art, who just happens to love street art and who has an ongoing public art experiment of her own. Not only that, but she said she would return to the Swap Box later in the day to leave two of her original wood block reduction art prints, since she felt horribly sad at having nothing to swap when she took the ATC.
I rushed back to the Swap Box at lunch time, and sure enough, there they were! They didn't fit inside the box, so the artist had rolled them up and taped them to the outside of the box. I took one. (I wanted both, but I didn't want to be greedy.)
The second print was gone when I passed by after work, and in its place was an orange lei. Don't you think the Swap Box looks especially festive with its orange lei dancing in the wind?
Meanwhile, I got a second email from the artist saying she is now considering making smaller pieces especially for the swap boxes! (You can see some examples of her prints and processes on facebook, under the profile name 'bussita terra.')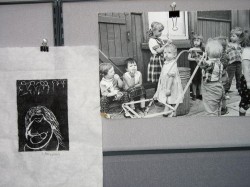 Here's a picture of the wood block print on my cubicle wall, along with an old photo of ragamuffins, which I rescued from the trash a few years ago. I felt a little surge of happiness every time I glanced at that wall today.
The Mayor Larry Swap Box was erected on November 19th (World Toilet Day, coincidentally), and in two and a half months it has evolved a history and a following of regulars who leave art and condoms and nickels and bus tickets and assorted odds and ends.
I love that art is now being swapped in the Swap Box. I LOVE it.
Tags: