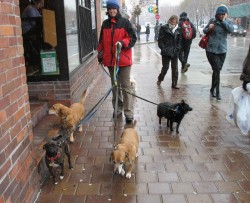 I was talking to a friend the other night and the subject of pet-naming came up, and how it has changed over the years. Have you noticed there are all kinds of Jacks and Mollys now, and relatively few Spots and Snoopys?
Apparently, with the demographic shift towards later marriage and increasingly older ages for starting families, a lot of people are now giving their pets their favourite 'people' names. These are often the names they were saving for the babies they never got around to having. As a result, there are fewer dogs with 'dog' names or cats with 'cat' names.
Here are the top ten names for Canadian babies in 2007. According to this theory, the dog parks should be full of puppies with these names pretty soon.
Top 10 for boys:
Aiden
Ethan
Jacob
Jayden
Caden
Noah
Jackson
Jack
Logan
Matthew
Top 10 for girls:
Sophia
Isabella
Emma
Madison
Ava
Addison
Hailey
Emily
Kaitlyn
Olivia
Those boys' names are hilarious. If you had triplets you could name them Aiden, Jayden and Caden. When I was six, I planned to grow up and marry a fireman who played the guitar and we would live in a bright yellow house with our five children: Harry, Pansy, and the triplets, Timmy, Tammy and Tommy. (I don't know what happened, but it wasn't that.)
The very first pets I named were two budgies I got on my seventh birthday: Little Joe and Honeybunch. (Little Joe was named after Little Joe on TV, and Honeybunch was named for the protagonist in a sickeningly sweet book I was reading at the time.)
A few years ago I inherited sixteen fish named Katherine.
The last pet I named was Duncan, and I don't know why I named him that. It just seemed to suit him. (I seriously considered naming him Doug.)
Anyway, enough about me. What are your pets' names and how did they get those names? I'm interested in your current pets, and also the ones you had as a kid, especially if you got to name them yourself.