I know some of you think I'm turning into a cat blogger, so I promise you this will be the last cat post this month. I swear. The cat is just a small part of my perfectly normal life, which is full of work and art and blogging and scrabble and knitting and chores and walking and running and friends and Internet and errands and sleep.
I used to have a little bit of regular reading time built into my life, and that was at bedtime. Not anymore. The reading came to an abrupt end with Duncan's arrival four weeks ago.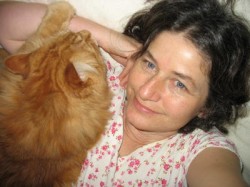 Duncan has taken over bedtime. He loves bedtime with all his great big furry purry heart. He starts lobbying for bedtime around 9:30 every evening, and he does not stop until I go to bed. This is okay, because I seem to have been infected by Duncan's love of bedtime. With his help, I have totally conquered insomnia.
Remember I told you that he sleeps with his head on my pillow and one paw in my hand and the other paw on my cheek? Not anymore. Now he sleeps in the curl of my arm, with his head on my chest. Last night he slept in the curl of my arm with his cheek on my cheek. I haven't the heart to read in bed anymore. Besides, Duncan is adamant that I do my reading on my own time.
Meanwhile, there is an inviting little stack of books on my bedside table that I had been slowly making a dent in, but no longer am. There's an intriguing Australian book called Praise, sent to me by nursemyra of the Gimcrack Hospital. There's my friend Donna's sister's first novel, Paper Trail, which I'm looking forward to burrowing into. There's a book of bite-sized short stories called The Girl Who Married a Lion, which Robin sent me. And there's Sweater 101, a gift from its author, Cheryl Brunette, which is brimming with useful sweater-knitting information.
I'm trying to re-arrange my life so I can read again. For starters, I just popped Praise into my knapsack yesterday, for reading in lineups and waiting rooms and on the bus. I'm on Chapter 7 already and I'm enjoying it. But I have to say it feels a little weird reading those raunchy heroin sex scenes in public, especially when some of my fellow travelers on the #14 seem to be leaning in and reading along. Am I just imagining that?
I wonder if they wonder why I'm reading porn on the bus, and what they would think if they knew it was because my cat doesn't allow me to read it at home.
I also wonder if it's okay to turn the page yet, or if they need another minute to catch up. (I always give them the extra minute, don't you?)