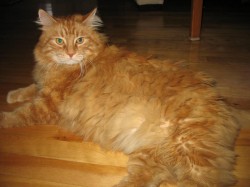 It's kind of like having a dog. He follows me wherever I go. And he doesn't pussy-foot around either, he goes THUMP THUMP THUMP.
He likes being groomed. He drops and flops over on his back and purrs and says "Do my belly!" He doesn't meow much, but he hasn't stopped purring since he got here.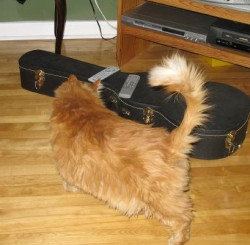 This picture is just to give you a sense of scale. A 25 pound cat is half as big as a guitar case.
Robin was at the Humane Society picking up his new cat at the same time, and he and his cat gave me and my cat a ride home. His cat never stopped meowing and mine was quiet as a mouse. A 000000………………………….
See that? He typed that all by himself! He's helping me blog. He's on my lap with his big fat paws on the keyboard. And he's purring up a storm. And licking my hand.
I think he likes me.

Tags: