Last night I got together with a couple of other bloggers and we went down to Rasputin's to catch local blogger Andrea Simms-Karp's show. She was playing with her cousin, guitarist Brian Simms, and her friend all the way back to third grade, Shawna Caspi.
Andrea's great – lots of stage presence and humour and rapport with her audience, plus terrific music too. Real Fine Friend gave me goosebumps (you can listen to it here). And they did this trippy little Prince number at the end, which was MADE for them. They even danced, sort of.
Rasputin's is so tiny and quiet that if you knock your beer bottle over, everybody looks at you and Andrea interrupts her own song to laugh at you. Ahem.
Fortunately she didn't notice when I inadvertently tried to drink my apple cider through the cinnamon stick, although my companions did notice. (Did you know cinnamon sticks only look hollow?) It reminded me of a couple of weeks ago when I had lunch with friends at a Vietnamese restaurant and I complained to my friends about the sauce being kind of bland and they pointed out that I was dipping my spring rolls in the tea.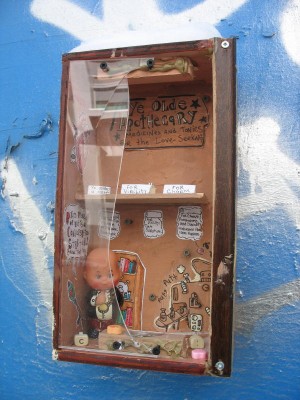 What else is new? Well, I'm sorry to say that Mak's Apothecary has been broken into. It's still there, but the plexiglass was smashed and a number of items were stolen from the shelves. The Ottawa Police Street Crimes Unit suspects crackheads are responsible for the smash-and-grab, and are calling for increased policing. Ha ha ha ha ha!
And, on the subject of Mak's Apothecary, I owe you all a big apology because I gave the wrong location!! I said it was on Albert just east of Bank, and really it's on Slater just east of Bank. I'm sorry if you went looking for it and couldn't find it.
Duncan has re-established the complete bedtime routine again after only several minutes of me playing hard-to-get. However, he did not greet me at the door today when I got home from my run, nor did he lick my feet while I did my stretches, nor did he wait on the bathmat while I had my shower. This is fine. I'm not neurotic about him or anything. However, I did experience a pang of concern when I stepped out of the shower onto the Duncanless bathmat, and I wondered if he had died while I was out running. (He hadn't. He was just snoozin' on the back of the couch in a puddle of sunshine.)
TAGS: