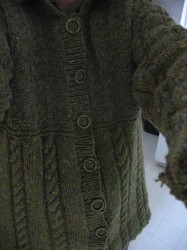 I know, I know, you were expecting to see a little more knitting on a blog named knitnut.net, weren't you? I DO knit, I just run out of things to say about knitting, so I only blog about it once in awhile.
The flip side of this is that someone recently suggested I rename the blog, since the name knitnut.net doesn't really convey what it's actually about, and it might dissuade non-knitters from visiting.
I probably wouldn't have named it knitnut if I'd known when I started what I know now, but I do like the name and the sheep and knitting and blogging and it's okay if I only blog about knitting once in awhile when something spectactular happens like I Actually Finish Knitting Something.
[insert drum roll here]
I finished knitting the Three-Year Sweater!!* And yes, I am a slow knitter, and I also tend to "lay projects aside" (as in "stuff them in a bin in the basement") when I get bored or confused, or when seasons change or when I see something else I'd rather be knitting.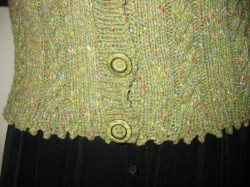 I wore it yesterday to Julia's birthday party (which was an excellent party, by the way, with lots of interesting conversation, and I had the pleasure of meeting two more of my virtual friends – Carmen, who knits and who comments regularly on my blog, and Robert who reads regularly but rarely comments and who consistently beats me at Scrabble on Facebook.)
Carmen and Julia were anxious to get my outer layers stripped off as soon as I arrived so they could see my freshly completed sweater. They said it was beautiful and admired the perfect Darrell Thomas buttons and there was even a subsequent discussion about the nature of art and whether knitting qualifies as art. (I think only the designer can claim it as art, unless the knitter made extensive modifications to the pattern, which I never do because I'm not that good.)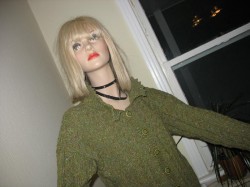 I don't know if anybody else does this, but I always have this urge to point out my knitting mistakes whenever someone admires something I knit. I'm not a hundred percent thrilled with how I sewed this sweater together, and I think it's affecting how it hangs. See? There I go again.
Here's the sweater on Genevieve, who is my most model-y mannequin. I also posted it on Ravelry. (I think I was the last knitter on the internet to find out about ravelry, but just in case there's anybody left who still hasn't heard about it, go sign up!)
I immediately started knitting another sweater, since I already have the wool and the pattern and the momentum. It's the Mission Falls Erika Cardigan. I should be done in about 2011, and I'll make a point of blogging it then.
Unfortunately I sustained a foot injury while knitting and watching the Oscars last night, so today I'm sidelined from running even though Ottawa is experiencing perfect running weather today.
---
*The Three-Year Sweater is also known as Sirdar #8336. If you ever knit it, be forewarned that there's an error in the pattern with respect to the math behind the buttonhole spacing. It's easy enough to recalculate, but it's better to know recalculations are required before you knit it the wrong way.